BASF
German group rebrands 3D printing activities as "Forward AM" / Launch of additional polymer filaments / Klaus Welsch to head "Mega Projects Asia"
BASF 3D Printing Solutions
(B3DPS, Heidelberg / Germany;
www.forward-am.com
), part of the
BASF
group (Ludwigshafen / Germany;
www.basf.com
), is combining its range of materials and services for industrial 3D printing and additive manufacturing under the new corporate brand name "Forward AM". B3DPS will be introducing the Forward AM brand in November at "Formnext 2019" (
www.formnext.com
), a 3D printing trade fair in Frankfurt / Germany. The new brand encompasses B3DPS' range of advanced materials, system solutions, components and services in the field of 3D printing and additive manufacturing.
3D-printed product in Heidelberg / Germany (Photo: BASF)
Its portfolio of high-performance 3D printing materials comprises powders, plastic and metal filaments, photopolymers and additives. Forward AM also incorporates B3DPS' end-to-end services for additive manufacturing, ranging from initial product concept validation and design optimisation to scanning, printing, testing and finishing. Under the new name, the company's virtual engineering services include "Design for AM" for product design and its "Ultrasim" service for simulation of component and process properties. B3DPS has formed alliances with developers of 3D printer software and technology and materials makers since being established in 2017 – see Plasteurope.com of
28.11.2018
.
Regarding materials, BASF also signalled it will expand its "Ultrafuse" portfolio of thermoplastic filaments for 3D printing with the test marketing of the "Ultrafuse TPU 95A", "Ultrafuse ABS ESD" and "Ultrafuse PEI 9085" filaments. Sample volumes will be available in January 2020 with larger volumes ready by Q1 2020.
BASF has also developed a coating suited for use with flexible materials such as its elastic "Ultrasint TPU 01". The new coating was developed in collaboration with
Hewlett Packard
(HP, Palo Alto, California / USA;
www.hp.com
) for its "Jet Fusion" 3D printer. The coating is offered in black, white, metallic silver and transparent.
Klaus Welsch will lead "Mega Projects Asia"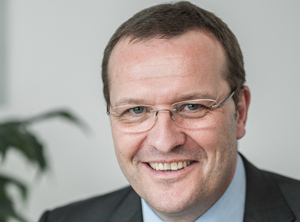 Klaus Welsch (Photo: BASF)
In separate news, BASF has tapped
Klaus Welsch
to helm its new "Mega Projects Asia" division based in Shanghai / China, effective 1 January 2020. The division is responsible for BASF's proposed seventh "Verbund" integrated chemical production site in Zhanjiang, Guangdong / China – see Plasteurope.com of
16.05.2019
– as well as a new petrochemical complex in Mundra, Gujurat / India, in which BASF has partnered with
Adani
(Ahmedabad, Gujarat;
www.adani.com
),
Adnoc
(Abu Dhabi / United Arab Emirates;
www.adnoc.ae
) and
Borealis
(Vienna / Austria;
www.borealisgroup.com
) – see Plasteurope.com
30.10.2019
. In Nanjing, Jiangsu / China, the German group has partnered with
Sinopec
(Beijing / China;
www.sinopec.com
) on major expansions that include building a new cracker for 1m t/y of ethylene – see Plasteurope.com of
06.11.2018
.
Welsch has been president of engineering and technical expertise for BASF in Ludwigshafen since 2015.
Heather Remley
, currently senior VP for Petrochemicals North America at
BASF Americas
, will be his successor.
18.11.2019 Plasteurope.com [243915-0]
Published on 18.11.2019
German version of this article...