MARINE LITTER
The Ocean Cleanup presents new vessel to catch plastic pollution in rivers / "The Interceptor" is planned to launch in 2025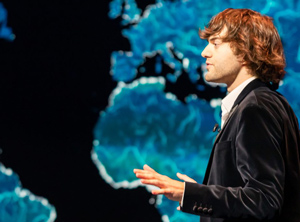 Boyan Slat presenting "The Interceptor" in Rotterdam (Photo: The Ocean Cleanup)
Now that an improved prototype for an oceangoing vessel is back in the "Great Pacific Garbage Patch" and, according to its inventor
Boyan Slat
catching and retaining plastic debris as it should – see Plasteurope.com of
10.10.2019
– the founder and CEO of the Dutch non-profit
The Ocean Cleanup
(TOC, Rotterdam / The Netherlands;
www.theoceancleanup.com
), is back into the spotlight with a new project to tackle the problem of plastic litter at its principal source. At a live-streamed event in the Port of Rotterdam, Slat recently presented a new vehicle called "The Interceptor", designed to capture debris from the world's 1,000 most polluting waterways. These, mostly in Asia and Africa, have been pinpointed as transporting around 80% of the plastic pollution found in the ocean. The ambitious timetable calls for the project launch before the end of 2025.
"To truly rid the oceans of plastic, we need to both clean up the legacy and close the tap, preventing more plastic from reaching the oceans in the first place," Slat said in introducing the vehicle said to have been "under development" at TOC since 2015. Billed as the first scalable solution that can intercept river plastic pollution and be deployed around the world, it is thought capable of extracting each day 50,000 kg of plastics or under "optimised conditions" even 100,000 kg per day.
Of the four Interceptors built to date, two are already operational, in Jakarta / Indonesia and Klang / Malaysia. A third system is planned to be deployed in Can Tho in Vietnam's Mekong Delta and a fourth in Santo Domingo / Dominican Republic. According to the non-profit, Thailand has signed up to deploy one of the vessels near Bangkok. Additional agreements are said to be nearing completion, including one in Los Angeles County, California / USA.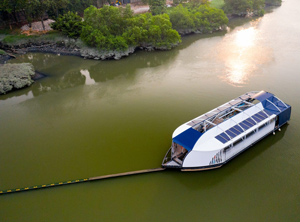 An Interceptor in action in Malaysia (Photo: The Ocean Cleanup)
Anchored to the riverbed to utilise the natural flow of the current, the 100% solar-powered system operates with onboard lithium-ion batteries designed to allow day and night autonomous operation without any noise or exhaust fumes. Like the oceangoing vessel, the Interceptor has a floating barrier designed to capture and scoop up the garbage, but – addressing concerns voiced by critics of the ocean project – Slat said it leaves sufficient room for other vessels to pass, and does not harm the safety nor impede the movement of wildlife.

According to a detailed description of The Interceptor published in a digital technology journal, the floating barrier directs waste to the mouth of the vessel, from whence a conveyor belt loads it onto giant shuttles. End of the line for the debris are six dumpsters located on a separate barge, which can be taken back to shore, emptied for recycling and reattached to begin collecting plastics again. The Ocean Cleanup has not disclosed which materials the Interceptor is made of – working parts of "System 001" (now System 001b) deployed in the Pacific are made in part of HDPE.
06.11.2019 Plasteurope.com [243798-0]
Published on 06.11.2019
German version of this article...