PLASTICS AND ENVIRONMENT
Early progress being made to eliminate problem packaging / Accelerated efforts needed to reach 2025 targets / Ellen MacArthur Foundation and UNEP progress report
Promising progress is being made in eliminating problematic plastic packaging, according to a report by the
Ellen MacArthur Foundation
(EMF, Cowes / UK;
www.ellenmacarthurfoundation.org
) and the
United Nations Environment Programme
(UNEP, Nairobi / Kenya;
www.unep.org
). The NGOs presented their first annual "
New Plastics Economy Global Commitment
" progress report at the "The Ocean" conference in Oslo / Norway on 23 October 2019. EMF and UNEP first published their commitment to the "New Plastics Economy" on 13 March 2019 (see Plasteurope.com of
20.03.2019
).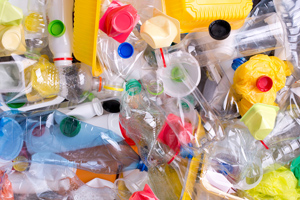 Over 400 signatories have committed to ambitious targets for eliminating problematic packaging by 2025 (Photo: Fotolia/photka)
Launched in 2018, the global commitment now has more than 400 signatories, including plastics producers, processors and governments, which have pledged to make 100% of their plastic packaging reusable, recyclable or compostable by 2025. This compares to around 60% currently.

So far, said the organisations, many business and government signatories are laying the foundations to scale and accelerate action and have made initial progress against their targets, ranging from making concrete plans to eliminate problematic packaging to 43 businesses reporting active reuse pilots.

In addition, and for the first time, the NGOs said the report has established a quantitative baseline that can be used to measure progress up to 2025. However, they added that continued scaling of action and a further increase in the ambition level will be needed to reach the targets. This applies particularly to efforts going beyond recycling, such as elimination and reuse. "This will need to happen in the short term, as major investments, innovations and transformation programmes must start now in order to have an impact by 2025," EMF said.
States and cities implementing bans, EPR schemes and incentives
Approximately 60% of brands, retailers and packaging producers that signed the commitment have either eliminated or have concrete plans to phase out polystyrene, EPS or polyvinylidene chloride (PVDC; used as high-barrier coating for films) from their portfolios. This rises to nearly 70% for single-use straws, carrier bags and undetectable carbon black plastics and is as high as 79% for PVC.

Most of the government signatories, including France, Rwanda, the UK as well as the cities of Sao Paulo / Brazil and Austin, Texs / USA, are also implementing policies that include bans, public procurement, extended producer responsibility (EPR) schemes, fiscal measures and incentives for research and development. Governments are also adopting measures to drive increased use of recycled content – for example, the UK will introduce a tax in 2022 on plastic packaging that contains less than 30% recycled content. However, the NGOs said "there remains large potential for businesses to make greater strides on elimination by moving beyond these commonly identified problematic items towards more fundamental innovation-led elimination."
"It is crucial more businesses take action to eliminate plastic pollution"
The UNEP report also highlighted the "unprecedented transparency" across the industry on progress, noting that, for the first time, 176 of the 189 business signatories and 14 out of the 16 governments have reported on progress towards achieving their public targets. So far, 35 companies have disclosed their total tonnage of plastic production or consumption, while firms including
Danone
(Paris / France;
www.danone.com
),
Nestlé
(Vevey / Switzerland;
www.nestle.com
) and
Coca-Cola
(Atlanta, Georgia / USA;
www.coca-cola.com
) have gone even further and provided insight into their portfolios by packaging type, polymer type or number of units. While signatory
Unilever
(London / UK;
www.unilever.com
) pledged to halve virgin plastics use by 2025 (see Plasteurope.com of
16.10.2019
) its competitor
Procter & Gamble
(P&G, Cincinnati, Ohio / USA;
www.pg.com
) is not a global commitment signatory yet, though it also has plans to decrease polymer consumtion.
Greenpeace
(Amsterdam / The Netherlands;
www.greenpeace.org
) has a sceptical view on all these commitments by multinational brand owners to tackle plastics pollution – warning consumers about the "false" solutions proposed (see Plasteurope.com of
11.10.2019
).
Nevertheless, EMF's New Plastics Economy lead,
Sander Defruyt
, warned that despite the promising early progress, "there is a long way to go and it is crucial those efforts are accelerated and scaled, and more businesses and governments take action to eliminate plastic pollution at the source."
31.10.2019 Plasteurope.com [243771-0]
Published on 31.10.2019
German version of this article...