MERAXIS
"Recycling not a short-term phenomenon" / Growth through provision of services including silo management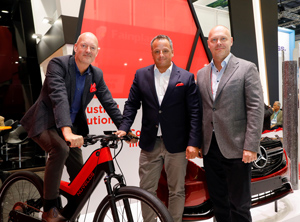 Elmar Schröter (left), Stefan Girschik (middle) and Philipp Endres (Photo: PIE/Hauptmannl)
Stefan Girschik
intends to have completed the integration of the two constituent parts of
Rehau
and
MB Barter
in plastics trading group
Meraxis
(Muri / Switzerland;
www.meraxis-group.com
) by the end of 2019. As far as the group's presence at "K 2019" is concerned (
www.k-online.com
), it would seem that this aim has already been achieved. "That quite surprised us – visitors at our stand perceived us as Meraxis as opposed to Rehau or MB Barter," said Girschik, summing up his experience after the first few days at the stand.
Recycling is the next "big issue" – and not just during the trade fair – as the recently hired compound and recyclate specialist
Elmar Schröter
(see Plasteurope.com of
15.10.2019
) explained. Contrary to the case for other trends, however, he feels that this will not just be a short-term phenomenon. The trading group's increased focus on this topic, among others (see
Plasteurope.com
interview of
11.10.2019
), thus represents a consistent Approach.
"Over the past three to four years, we have gradually built up polyolefin recycling at Rehau," Girschik said. While Rehau is an application-oriented group – including for the automotive and construction industries – material and process competence have always been important for the company. We were first held back by the thought that "if we use recyclate, we obtain inferior products that we can't sell for a good Price." This prompted Rehau to focus primarily on observing the situation to begin with. This approach has evidently changed now.
For Schröter, the link to Rehau is also an asset that Meraxis can use to advantage. "No other competitor has a similar configuration with a major processor behind them." Despite this, in addition to the business with Rehau, the company intends to generate business with other partners, new products and segments and the provision of services. The services include silo management for key customers in the packaging segment as well as the company's own specification of polypropylene grades from Egypt that have so far not been approved for automotive construction.
23.10.2019 Plasteurope.com [243720-0]
Published on 23.10.2019
German version of this article...