CLARIANT
Sustainability projects and bio-based additives at "K 2019" / Partnership with Neste for olefins from renewable raw materials / Pilot recycling plant in Italy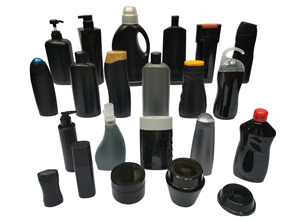 Black and grey plastic packaging made with the new NIR-detectable colourants (Photo: Clariant)
For
Clariant
(Muttenz / Switzerland;
www.clariant.com
), as for many other companies, "K 2019" is very much characterised by sustainability and circular economy.
Hans Bohnen
, a Clariant executive committee member, says – like other players along the value chains of the plastics and recycling industries – the long-term aim must be to develop products and technologies that reduce the dependence on fossil materials. One example of Clariant's commitment is the new "EcoCircle" initiative for supporting the transition from a one-way plastics value chain to a circular plastics economy. Here, throughout the company, competencies and technologies that are of importance for mechanical and chemical recycling will be combined in order to develop circular products. Furthermore, EcoCircle offers a platform to strengthen the exchange of knowledge and collaboration with customers. In its "EcoCircle" centres of excellence around the world, R&D is to be jointly carried out for this purpose. The first of these centres is located in the site of Clariant's Masterbatches business unit in Pogliano / Italy.
At the Italian site, a first mini-recycling plant will also be built for the mechanical recycling of end-of-use PET bottles from mid-2020. Also included in the pilot project is the colouring of recyclate for polyolefins and laboratory capacities. Clariant's Additives business unit is also investing in the setting up of an EcoCircle centre of excellence, due to be running in 2022.
Besides this, Clariant has partnered with Finnish refinery operator
Neste
(Espoo;
www.neste.com
) to market a range of additives based on mass balance-certified ethylene and propylene from renewable feedstocks. The renewable hydrocarbons from Neste are based on bio-based raw materials such as waste products and residual oils. As a result of this cooperation, Clariant is launching some additive solutions under the name "Terra", which, as substitute solutions, behave in the same way as corresponding fossil-based products, says Clariant. Under the brands "Exolit OP Terra" and "Licocene Terra", 11 new additives based on renewable raw materials are available. Apart from that, Clariant will launch two waxes and dispersing agents based on natural raw materials for engineering plastics and biopolymers – "Licocare RBW 360 TP Vita" and "Ceridust 1060 Vita".
As far as the planned sale of the pigments and masterbatches business is concerned – see Plasteurope.com of
08.10.2019
– Bohnen was not prepared to say very much at the K presentation. When asked by
Plasteurope.com
, the CEO also declined to comment on the negotiations with
PolyOne
. He simply said the company was talking to multiple market players, and the only thing he could say with any certainty was that the sale would be completed in the course of 2020.
New colourants allow NIR sorting of black plastics
At K 2019, the Swiss group also launched its first range of near-infrared (NIR)-detectable black pigments and dyes applicable to a wide variety of recyclable plastics. This is a step in enabling the sorting of black plastic packaging in recovery and recycling plants. For packaging, the new range of black colourants includes "Solvaperm Black PCR", a polymer-soluble dye for black/grey colouring of PET, polystyrene and polycarbonate. The colourant gives packs for beverages, beauty and cleaning items as well as meat trays and milk product containers a certain colour fastness and has already been approved in some countries for food-contact applications, says the manufacturer.

The new "Graphtol Black CLN" pigment developed specifically for polyolefins offers high colour fastness properties and excellent dispersibility for easy and consistent colouration. It, too, is food-contact approved in selected countries worldwide. The polymer-soluble dye "Polysynthren Black H" achieves high fastnesses in the black/grey colouring of packaging and E&E applications made of PC, PMMA, ABS, PBT, EPS, PS and PET.
22.10.2019 Plasteurope.com [243694-0]
Published on 22.10.2019
German version of this article...