K 2019
The curtains go up / Düsseldorf at the centre of the plastics world for a week / Circular economy features strongly at this year's K / Partnerships along the entire value chain gain importance
It's here again! After three years, the "K" trade fair (
www.k-online.com
) will open its doors in Düsseldorf / Germany on 16 October. K 2019, taking place until 23 October, will once again underline its global importance. More than 3,300 exhibitors will showcase their products and services, with around 200,000 international trade visitors expected to attend.
Each of the past K shows in Düsseldorf is remembered for its special theme or notable circumstances. The fall of the Berlin wall on the final day of K 1989, the subject of recycling in 1992, metallocene plastics in 1995, consolidation of producers in 1998, the consequences of 11 September in 2001, the dominance of Asia in 2004, the electrification of production in 2007, the boom of 2010 after the financial crisis, energy-saving measures in 2013 and digitalisation in 2016.
At K 2019, circular economy is at the top of the agenda. Sooner or later, every company in the plastics industry will be affected, directly or indirectly, by matters of sustainability, changing consumer behaviour and product bans. Accordingly, nobody will be able to escape a confrontation with the topic of circular economy, said
Thorsten Kühmann
, managing director of the German plastics and rubber machinery association within the
VDMA Kunststoff- und Gummimaschinen
(KuG, Frankfurt;
http://kug.vdma.org
), ahead of the event.
"K is the most international plastics fair in the world," said
Erhard Wienkamp
, executive director of the foreign trade fairs division at
Messe Düsseldorf
(
www.messe-duesseldorf.com
), which organises the K show. He is absolutely clear: "The industry will speak up and assume responsibility for its products."
For
Ulrich Reifenhäuser
, CSO of the
Reifenhäuser
group (Troisdorf / Germany;
www.reifenhauser.com
) and chairman both of the KuG and the K exhibitors' advisory committee, the onus is on the plastics industry to act. "We must surprise the politicians, the markets and our own segment by coming up with solutions – and we must present them convincingly. We must show that we are working very seriously on finding effective solutions. If we do that, the image of plastic will once again gradually move in the right direction."
Rüdiger Baunemann
, director general of plastics producers association
PlasticsEurope Deutschland
(Frankfurt / Germany;
www.plasticseurope.org
), underlines the point, "All the stakeholders in the world of plastics must set up networks – starting with producers and continuing with processors, brand owners and the trade, right the way through to recyclers. No single group of stakeholders can master the tasks on their own."
Indeed, the current backlash from society exceeds all criticism that the German plastics industry has so far experienced – fired up by the response in the general press and local media, on television, radio and social media. The large-scale protests initiated by relevant organisations against the international auto show "IAA" in September 2019 in Frankfurt should be a warning for the plastics industry – see Plasteurope.com of
17.09.2019
.
Already hardly a day goes by when plastics producers, machinery manufacturers, plastics processors, OEMs, retail chains, recyclers and service providers do not announce new partnerships to help meet the demands of consumers and politicians to avoid or reduce the use of plastics, to promote reuse and recycling and to stand up to the pressure of public opinion. During the K show, producers, machinery manufacturers and converters will present vertical initiatives along specific value chains (for example, PET bottles, windows and flexible packaging) and material-oriented procedures (according to polyolefins, polystyrene, PVC or PET). They all show how diverse the options for action in issues of sustainability actually are, and that broader solutions can only be found and established in conjunction with other companies.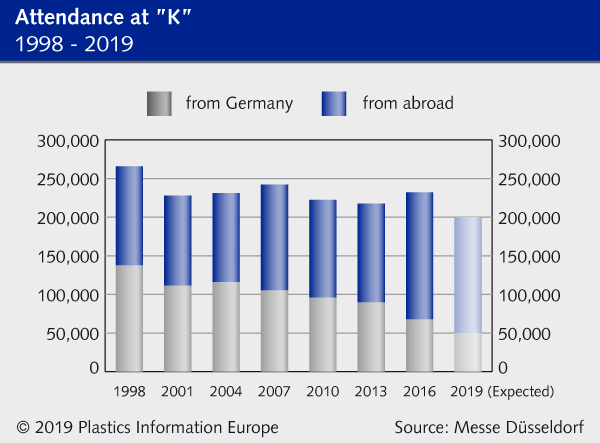 In recent months, more than 25 leading exhibitors have introduced themselves, their new products and their exhibits to representatives of the media. The first nine presentations all started with a passionate commitment to a circular economy, and the vast majority took time out to emphasise the efforts they were making in this direction. At any rate, the exhibitor reports have included long discourses on sustainability, the ostensible conservation of resources through products and processes, the supposed climate friendliness of applications and the presumed contribution to reducing CO2. Which of these can stand up to the laws of physics and the claims of the converters and users, and which of them turn out to be empty statements must be proven during and after the show.

At first sight, it seems there will be few spectacular developments on show at K – at least as far as new products are concerned. However, as always in complicated economic times, exhibits for stable customer markets assume greater importance, with fields such as medical and packaging apparently very much in evidence. The penetration of production technology and IT is making considerable progress in all fields of application and in all processes of plastics technology. It will be interesting to see what other concrete data-based products and services will emerge.

Plasteurope.com's sister publication K-PROFI has comprehensively sifted through the trends, product launches and exhibits, checked them for innovativeness, grouped them according to products and sorted them according to hall numbers. Nevertheless, exhibitors are bound – as they always do – to pull one or other surprise out of the hat. There is no better stage than K 2019 for presenting innovative developments.

The entire KI Group team is looking forward to spending a few days in Düsseldorf. A lot of interesting talks and some celebrations too, like the exhibitors' event on Saturday evening await us all. While the KI Group's editorial teams are in the background producing, among other things, the official daily German-language K newspaper as well as PIE, you will find other members of the KI Group ready to help you at our stand C28 in hall 6. We look forward to seeing you there!
15.10.2019 Plasteurope.com [243614-0]
Published on 15.10.2019