BRÜGGEMANN
Extension of additive range for virgin and recycled polyamide / Launch of products at "K 2019"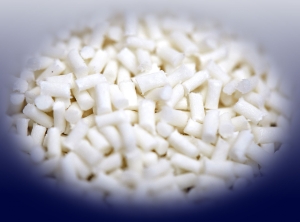 Brüggemann has several new additives for all PA grades (Photo: Brüggemann)
German chemical company
Brüggemann
(Heilbronn;
www.brueggemann.com
) has announced a series of new additives for both virgin and recycled polyamide, extending its range of flow enhancers, heat stabilisers and chain modifiers.
The company is planning to launch the products at the forthcoming "K 2019" (
www.k-online.com
) trade fair to be held in Düsseldorf / Germany from 16-23 October. Available for all PA grades, "Bruggolen TP-P1810" improves the flow properties of polyphthalamides (PPA) while retaining overall mechanical characteristics. Brüggemann said this flow enhancer will considerably widen the processing window as well as optimise application-specific compounds. For example, it is possible when using this additive to "reliably produce and easily process" compounds with high fibre content (60%).
Brüggemann also now offers heat stabilisers for the entire temperature range. Its "Phenolic Plus Bruggolen TP-H1803" improves long-term heat ageing stabilisation compared to conventional phenolic systems, extending the temperature range to 180°C, something the company said is not possible with standard phenolics.
In cases where long-term resistance to temperatures up to 180°C is a priority, then "Bruggolen TP-H1607" is an alternative to traditional copper iodide/potassium iodide stabilisers. The high-performance copper iodide-based stabiliser is based on proprietary technology and can give the required thermal protection at very low concentrations, which is a particular advantage for E&E applications.
"Bruggolen TP-H1805" can be used to stabilise fibre-reinforced aliphatic PAs for long-term use at temperatures up to 200°C for PA 6 or up to 230°C for PA 6.6. This ability, said the German group, enables compounders to tailor products for applications in borderline areas that were until now the preserve of PPAs or other high-performance polymers such as PPS. Injection-moulded parts containing this additive – for example air ducts and pipes in vehicle engines – are said to offer excellent heat resistance over the entire required temperature range.
Chain modifiers "Bruggolen M1251" and "Bruggolen TP-M1417" are said to be particularly effective in enabling secondary PA material to meet high-quality specifications, enabling increased recycling. Through linear chain lengthening, Bruggolen M1251 compensates for any decline in molecular weight during prior processing, improving the mechanical properties of the recyclate to match those of virgin PA. "Bruggolen M1253" is a smaller pellet size of the same additive, making for easier dosage during compounding.
Bruggolen TP-M1417 shortens excessively long molecular chains of high-viscosity PA scrap. Brüggemann said only small quantities of this additive and a single extrusion step are needed to produce high-grade recyclate that is optimally suited for injection moulding with performance matching that of virgin material.
04.09.2019 Plasteurope.com [243289-0]
Published on 04.09.2019
German version of this article...