ASAHI KASEI
PA-based and PPE foams for car applications / Possibilities for lightweighting and noise reduction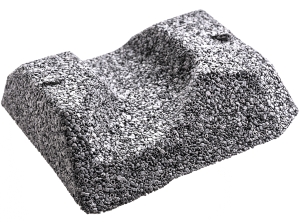 In addition to the typical polyamide properties, PA foam beads with a C or macaroni shape provide noise insulation (Photo: Asahi Kasei)
Japanese chemicals and materials manufacturer
Asahi Kasei
(Tokyo;
www.asahi-kasei.co.jp
) has developed two PA foams for lightweight and noise reducing applications in cars.
The first material, which Asahi said is the first of its kind worldwide, features the typical heat, chemical and oil resistance properties of PA, combined with "outstanding" rigidity or noise-reducing quality, depending on the shape of the beads. When comprised of round-shaped beads, the foam is characterised by strong rigidity, making it a promising alternative for aluminium and metal in structural parts as well as in insulators, ducts, spacers or other lightweight parts of the battery case in electric cars.
Alternatively, a PA foam with a C or macaroni shape provides noise insulation in addition to the material's typical properties. Potential applications can be found anywhere around the car, especially in the engine compartment, but also in the roof, bonnet, seat and floor structure. The Japanese company pointed out that the foam beads can be processed using steam on standard PS moulding equipment.
"In Europe, where environmental awareness is strong, the need for lightweight applications is expected to further increase in the future, especially in the automotive industry," said
Takuji Namatame
, senior manager of the corporate R&D division at
Asahi Kasei Europe
. "Our foam opens new doors for applications, which at the same time require lightweight and heat resistance.
PPE foam for e-car batteries
Asahi has also developed "SunForce", a particle foam based on modified polyphenylene ether (m-PPE) that it said can open new opportunities in thermal management and fire protection around battery packs for hybrid and electric vehicles. The foam, which Asahi notes is the first of its kind to be certified with the UL94 V-0 standard for fire protection, also provides superior heat insulation properties compared to conventional foams as well as functioning as a lightweight shock-absorbing material. Applications are envisaged in automotive battery packs, shock absorbers, sandwich composite cores with carbon fibre and thermal insulation.

SunForce can also be processed by steam moulding and at lower pressure versus injection moulding with a metal mould. The reduced pressure allows the use of an aluminium mould, which can be produced at 10-20% of the cost of a steel version, according to Asahi.

The characteristics of m-PPE also allow a very precise and accurate design of products with complex structures, and the small size of the beads enables the moulding of thin walls while maintaining mechanical strength and stiffness. "Our intention is to strengthen the application development and technical marketing of 'SunForce' in Germany and Europe – not only for automotive battery parts, but also in automotive electronics and composite core applications for exterior and interior parts, as well as medical devices, electric products and other advanced technologies," said Nobuhiro Kikuchi, manager for SunForce at Asahi Kasei Europe.

The company introduced SunForce to the Japanese market in 2011. It started marketing activities in Europe in 2016 following the establishment of its European operational headquarters in Düsseldorf / Germany.
29.07.2019 Plasteurope.com [243005-0]
Published on 29.07.2019
German version of this article...