HENKEL
Detergent and cosmetics packaging made entirely of recyclate / "Social Plastic" rPET in collaboration with Plastic Bank
Consumer goods group
Henkel
(Düsseldorf / Germany;
www.henkel.com
) is proceeding to the next phase in its cooperation with social enterprise
Plastic Bank
(Vancouver, British Columbia / Canada;
www.plasticbank.org
). The company's Laundry and Home Care as well as Beauty Care business units will soon be launching detergents, cleaning agents and cosmetic products in bottles made of 100% recycled materials – up to 50% of which contains Plastic Bank's "Social Plastic". This latter material is recyclate made from Plastic Bank collections in Haiti and forms part of the initiative launched in 2017 to combat marine litter and poverty in countries with insufficient waste management infrastructure – see Plasteurope.com of
23.11.2017
. With Henkel's support, Plastic Bank has so far been able to open three more plastic collection centres in Haiti. The local population can hand in plastics waste and receive money, goods or services in exchange.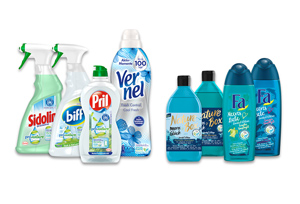 These detergent and cosmetics bottles are made entirely of recyclate, with up to a 50% share of "Social Plastic" (Photo: Henkel)
Following successful pilot projects, the German group in summer 2019 will be supplying its Pro Nature cleaning agents "Biff", "Pril" and "Sidolin" as well as its "Vernel Fresh Control" fabric softener in containers made of 100% rPET, 25% of which is Social Plastic. There will also be two special editions of shampoo and shower gel as of June 2019 – the bottles for Nature Box "Meeres Glück" and Fa "Meeres Liebe" will likewise be in 100% rPET – containing a 50% share of Social Plastic.
Contributions to reducing plastics waste and poverty
"In total, around 200 t of collected Social Plastic will be processed for Henkel in the year 2019 – this plastic will not end up in the ocean," says
Thomas Müller-Kirschbaum
, co-chair of Henkel's Sustainability Council and head of R&D Laundry and Home Care. The company's long-term use of Social Plastic in its own packaging reinforces its claim to be contributing to a closed-loop economy while, at the same time, offering prospects to the people of Haiti. For
David Katz
, CEO of Plastic Bank, this collaboration shows that true added value can be created "by tackling the waste problem in a holistic approach."
The Düsseldorf-based home and beauty care company is aiming to raise the share of recycled plastics in its packaging in Europe to 35% by 2025. In addition, all its containers are to be recyclable, reusable or compostable by then. On top of its partnership with Plastic Bank, Henkel is also participating in the
Ellen MacArthur Foundation
's (EMF, Cowes / UK;
www.ellenmacarthurfoundation.org
) "New Plastics Economy". According to the foundation's latest report, the group is not disclosing its specific packaging and plastics consumption data, contrary to some of the other major brand owners – see Plasteurope.com of
20.03.2019
.
09.05.2019 Plasteurope.com [242403-0]
Published on 09.05.2019
German version of this article...