FIP
French plastics trade fair renamed France Innovation Plasturgie / Next edition in June 2020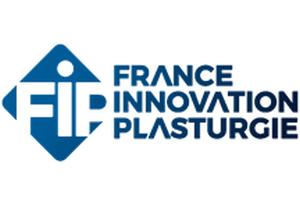 The new name and logo of the French plastics trade show (Image: FIP)
The triennial trade show for plastics composites and rubber in France has a new name and a new format. Formerly called "fip solution plastique", the event is now simply named "FIP" (
www.f-i-p.com
). The trade show made its debut in 2006, and the next edition will take place from 16-19 June 2020 in Lyon. Around 10,000 visitors are expected to attend. Organised by
Idice
(Oyonnax / France), the event will include three shows over the four days:
"FIP France Innovation Plastgurie" is the exhibition offering global know-how in plastics, composites and rubbers
"FIP Transform" is a converters exhibition
"FIP Valorize" is a circular economy exhibition for plastics processing
Idice says the new organisation matches the needs of a market that is undergoing substantial transformation.
Nathalie Grosdidier
, Idice's CEO, notes that "in a difficult context marked by intense debates around plastics issues, it is crucial that all actors of the plastics industry rally around this event." Federations and associations that have already confirmed support include the French processors' association
Fédération de la Plasturgie et des Composites
(FEP, Paris;
www.laplasturgie.fr
) and its affiliated members
Allizé-Plasturgie
(Lyon;
www.allize-plasturgie.org
),
Plasti Ouest
(Rennes;
www.plasti-ouest.com
) and
Gipco
(Marcq-en-Barœul;
www.gipco-plasturgie.org
), as well as
Plastipolis
(Oyonnax;
www.plastipolis.fr
),
IPC
(Bellignat;
www.ct-ipc.com
),
PlasticsEurope
(Brussels / Belgium;
www.plasticseurope.org
) and the
ACDI
(Oyonnax;
www.acdi-plasturgie.fr
).
Registration for FIP will open in early 2020. The event will be held at
Eurexpo Lyon
(
www.eurexpo.com
).
21.05.2019 Plasteurope.com [242376-0]
Published on 21.05.2019