PLASTIC CARRIER BAGS
New York state bans most single-use plastic bags from 2020 / Some uses exempted / Optional fee for paper / Levies to go to environment fund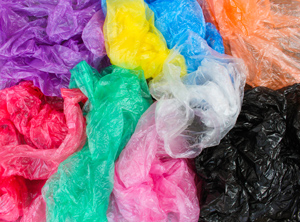 New York set to become next US state to ban single-use plastic bags (Photo: Panthermedia/Mukhina1)
After several false starts, New York will now become the second US state to ban the use of single-use plastic carrier bags, after California. The state legislature in March 2019 accepted a plan to banish most types of single-use plastic bags from retail outlets, starting in March 2020. The legislation largely follows the contours of plans presented in 2018 by the state's governor,
Andrew Cuomo
– see Plasteurope.com of
07.05.2018
. Exempt from the provisions are food takeout bags used by restaurants, bags used to wrap deli or meat counter products and bags for bulk items. Newspaper bags are also be exempted as well as garment bags used by dry cleaners and bags sold in bulk, for applications such as rubbish or recycling.
In lieu of a ban on paper bags, the state will give county governments the option to charge 5 cents. Revenue from such fees would flow into the state's environmental protection fund as well as a separate fund to purchase reusable bags for consumers. The decision to make the paper bag fee optional angered some environmental advocates, including those who had supported a ban on paper bags as well, citing the need to minimise greenhouse emissions from their production.
Peter Iwanowicz
, executive director of the NGO
Environmental Advocates of New York
, told the New York Times that making paper bag fees optional renders the state's law "a weak response to the scourge of disposable bags. New York had a chance to show real leadership and came up short," he said.
Retailers fear drastic impact
As was the case with the earlier proposals for New York City, as well as in a similar debate in California, retailers firmly opposed either a ban or a fee for single-trip carrier bags of any type. Business and trade groups, including the
Food Industry Alliance of New York State
, which represents grocery stores, said the new state legislation would "have a drastic impact on retailers." The shop owners are unhappy about not being able to pocket some of the fees they have to charge for paper bags.
After successfully passing the new statewide rules for plastic carrier bags, Cuomo has somewhat rehabilitated himself among environmental advocates after his widely slammed role in crushing wide-sweeping litter reduction legislation proposed by New York City mayor
Bill de Blasio
two years ago. As opposition mounted, in February 2017 the governor put paid to the city's plan to charge 5 cents for single-trip bags of plastic or paper a day before it was due to take effect – see Plasteurope.com of
20.02.2017
.
That Cuomo's own subsequent proposal for a statewide ban on plastic carrier bags was not also consigned to the dustbin of history was thanks to changes in the make-up of the New York legislature following the US midterm elections in November 2018. In the November voting, Democrats won eight seats in the New York state senate, regaining the majority and guaranteeing the bill's passage. According to one calculation, New York City alone consumes some 71,000 t of plastic carrier bags annually.
In California, where similar legislation was implemented in 2016, legislators are now proposing to widen that state's rules to include a ban on all single-use plastics by 2030 – see Plasteurope.com of
12.03.2019
. In Hawaii, most counties already ban disposable plastic bags. The state government is now proposing to ban single-use plastics in most applications up to 2023 – see Plasteurope.com of
04.03.2019
.
12.04.2019 Plasteurope.com [242203-0]
Published on 12.04.2019