AVANTIUM
Dutch site for "Mekong" demo plant for bio-based MEG / Progress on partnerships for technology commercialisation / Full-year results hit by Synvina charges
Dutch renewables company
Avantium
(Amsterdam;
www.avantium.com
) has announced that it is building its "Mekong" plant-based MEG demonstration plant in
Chemie Park Delfzijl
(
www.chemieparkdelfzijl.nl
) in the Netherlands – see Plasteurope.com of
06.07.2018
. The company said a key factor behind choosing the site, which is close to Avantium's "Dawn" pilot biorefinery, was a EUR 2m grant from the
European Regional Development Fund
, facilitated by
Samenwerkingsverband Noord-Nederland
(Groningen / The Netherlands;
www.snn.nl
).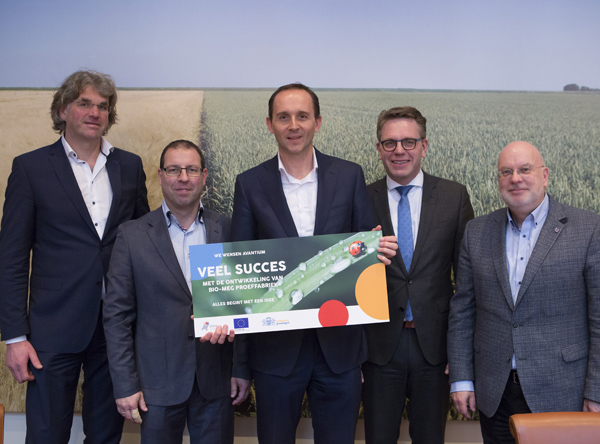 Avantium's "Mekong" technology is supported by the province of Groningen (from left): Henk Emmens (SNN), Patrick Brouns (regional minister of Groningen province), Avantium CEO Tom van Aken, Cas König (Groningen Seaports) and Nouryon's Johan Visser (Photo: Avantium)
Avantium's CEO
Tom van Aken
said Chemie Park Delfzjil was an "excellent" location with a highly skilled and committed workforce, which was crucial to commercialising the technology. Construction on the 10 t/y plant started in June 2018 and completion remains on track for the second half of 2019.
The company added that it was also making good progress in developing partnership opportunities to bring the technology to full-scale global commercialisation. "We have collaborations with potential licence partners around the world who wish to enter a significant growth market with a sustainable plant-based option," commented
Zanna McFerson
, Avantium's managing director Renewable Chemistries.
The Mekong single-step process aims to produce plant-based MEG that is chemically identical to fossil-based MEG and competitive both in terms of cost and quality. Currently, more than 99% of MEG is based on fossil feedstock with a market value of around USD 25 bn (EUR 22 bn).
Meanwhile, Avantium's 2018 financial results have been negatively impacted by
BASF
's (Ludwigshafen / Germany;
www.basf.com
) exit from its
Synvina
joint venture last December – see Plasteurope.com of
08.01.2019
. The JV was set up to produce and market furandicarboxylic acid (FDCA), a feedstock for next-generation bio-based and recyclable polymer polyethylenefuranoate (PEF).
The Dutch firm paid BASF EUR 17.4m to acquire full ownership of Synvina, incurring onerous contract expenses of EUR 13.1m and impairment losses of EUR 36.9m as a result. Consequently, its net losses for 2018 widened to EUR 68.4m from EUR 16.8m in 2017. Total 2018 revenues also slipped to EUR 11.3m from EUR 12.7m the year before, while total adjusted EBITDA decreased to minus EUR 7.7m from minus EUR 4.2m. Increased investments in the Dawn biorefinery and the Mekong demonstration plant led to a lower adjusted EBITDA for the Renewable Chemistries business.
Describing 2018 as a "challenging" year for Avantium, van Aken is nevertheless upbeat about future prospects for Synvina's "YXY" technology, citing policy and legislative developments in plastics and the circular economy. He said, "We remain determined to bring the YXY technology to market and build a successful venture for all our stakeholders."
As well as demand into packaging materials such as bottles, Avantium noted that there is also a strong market for PEF in higher-value applications, such as high-barrier films. According to the company, applications for the PEF market represent an annual turnover of more than USD 200 bn. Avantium added that it is exploring different scenarios with potential partners and will make further announcements on its commercialisation strategy for YXY during its "Technology Day" on 6 June 2019.
03.04.2019 Plasteurope.com [242135-0]
Published on 03.04.2019