SINGLE-USE PLASTICS
California to debate new restrictions / Recycling and reuse would be mandated by 2030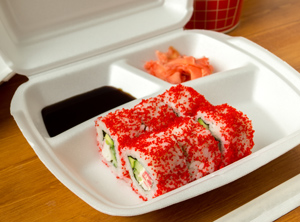 California is considering phasing out single-use plastic food packaging that is not recyclable or compostable (Photo: Panthermedia/Elena281)
The US state of California will consider new legislation on plastic throwaways. Identical plans have been introduced separately in the state senate (upper house) and the sssembly (lower house). The measures are aimed at phasing out by 2030 all single-use plastic food containers and other packaging not clearly demonstrated to be recyclable or compostable. The phased approach would mandate a recycling rate of at least 20% by 1 January 2022, and at least 40% by 2026. Proposals would also require the state to recycle – or at least divert from landfill – 75% of single-use plastic packaging and products sold or distributed. In 2017, the last year for which figures are available, some 44% of all solid waste was diverted.
In preparation, by the beginning of 2021, the California Department of Resources Recycling and Recovery (CalRecycle) would be asked to deliver a scoping plan about how to measure and achieve the targets. CalRecycle would also be tasked with developing criteria – based on requested data from the public and private sectors – to determine which types of single-use packaging or products are reusable, recyclable or compostable. The results could change the makeup of plastic products in the state or require investment in new incineration plants.
Mark Murray
, executive director of the NGO
Californians Against Waste
(Sacramento, California;
www.cawrecycles.org
) said the legislation would be a "win" for companies making or marketing PET and HDPE, the most commonly recycled plastics.
Santa Monica state senator
Ben Allen
, sponsor of the phase-out plan in the upper chamber, said California currently recycles only 15% of single-use plastics, in part because "the cost of recycling plastics exceeds the value of the resulting material." Nationwide, he noted, the picture is even dimmer. The US
Environmental Protection Agency
(EPA, Washington, D.C.;
www.epa.gov
) has calculated that recycling rates will drop to only 2.9% in 2019, down from 9.1% in 2015. Allen and the three sponsors of the assembly bill said the plastics waste problem has become worse since China closed its doors to foreign material.
California has the best environmental track record in the US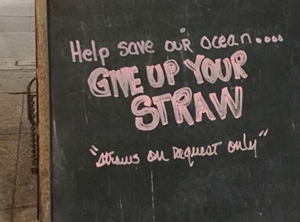 Plastic straws are only available upon request in California (Photo: PIE)
California has proven itself to be the US state most likely to initiate new environmental regulations. In 2018 it passed a law barring restaurants from providing plastic straws unless requested by customers. In 2014, its state legislature became the first to mandate a ban on distributing free single-use plastic carrier bags in retail outlets. The bill passed in 2016 – see Plasteurope.com of
17.11.2016
.
Stores are now required to offer paper and reusable plastic bags for at least 10 cents each. Two California cities are already ahead of the rest of the state on restricting disposable plastics. San Diego's new regulation aimed at curbing the use of polystyrene foam products took effect on 23 February 2019. In January, Berkeley passed its own bill to eliminate all single-use food containers by 2020. While saying it shares the objective of "significantly reducing" the amount of plastic going to landfill." The
American Chemistry Council
(ACC, Washington, D.C.;
www.americanchemistry.com
) told the newspaper Los Angeles Times it has asked to review the text of the new legislative proposals. The ACC said that in 2018, it set its own target to reuse, recycle or recover 100% of plastic packaging nationwide by 2040.
The US state of Hawaii has also recently announced plans to drastically reduce plastics waste. The proposed legislation would ban various single-use plastics in a series of steps up to 2025 – see Plasteurope.com of
04.03.2019
.
12.03.2019 Plasteurope.com [241950-0]
Published on 12.03.2019
German version of this article...