US PLASTICS INDUSTRY
Plastics machinery shipments rise 8% in Q4 2018 / Market conditions likely to improve in 2019 / Plastics Industry Association reports
Shipments of primary plastics machinery in the US rose by 8% to USD 376.9m (EUR 332m) in the fourth quarter of 2018 compared with the third quarter, supported by strong growth in shipments of injection moulding machinery, according to preliminary estimates by the US
Plastics Industry Association
's (Plastics, Washington, D.C.;
www.plasticsindustry.org
) committee on equipment statistics. Injection moulding equipment shipments rose by 8.8%, while single- and twin-extrusion equipment shipments increased 4.6% and 1.5%, respectively. Compared with Q4 2017, however, shipments of injection moulding equipment dropped by 4.9% by value in Q4 2018. Single- and twin-extrusion equipment shipments rose by 33.7% and 52.0%, respectively.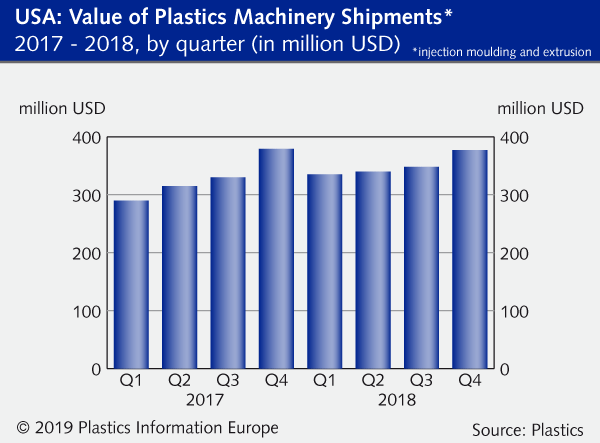 In terms of units, Q4 shipments of primary plastics machinery increased by 3.8% compared with the previous quarter. Injection moulding equipment shipments rose 2.7% by units compared with Q3, while single- and twin-extrusion equipment shipments were up 5.6% and 16.1% respectively.

Shipments grew in line with expectations in the fourth quarter, said Perc Pineda, the association's chief economist. "The increase is not due to inflationary pressures of the economy, which one tends to think about when dollar value increases, but purely an increase in the quantity of shipments," he said.

Some 67% of plastics machinery suppliers expect market conditions to be steady-to-better over the next 12 months, according to the association's quarterly survey. There was a consensus that Latin America and Mexico are growing export markets for machinery. The ongoing US trade tensions with China and sputtering economic performance in most of Europe have dimmed the market outlook in both export markets, it said.

A full analysis for fourth-quarter plastics machinery global trade was hampered by the recent US government shutdown. Based on October and November 2018 data, plastics machinery exports are expected to fall short of USD 400m, Pineda said.

Asked about the major end-markets, survey respondents expect that medical and packaging will remain strong in terms of demand for plastic products and equipment.
12.03.2019 Plasteurope.com [241890-0]
Published on 12.03.2019
German version of this article...