INDORAMA
Thai group asserts itself in US – takeover of M&G's Texas PET plant approved / Commercial start of PIA production in Alabama / Entry into PET recycling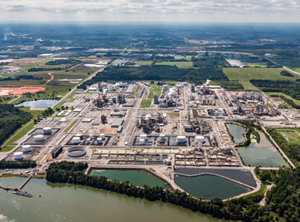 Indorama's PTA complex in Decatur (Photo: Indorama)
As 2018 rolled over into 2019, polyester giant
Indorama Ventures
(IVL, Bangkok / Thailand;
www.indoramaventures.com
) was busy wrapping up old deals, clinching new purchases and starting up production facilities, all on the US Gulf Coast. The Thai group, along with
Far Eastern New Century
(FENC, Taipei / Taiwan;
www.fenc.com
) and
Alpek
(Mexico City / Mexico;
www.alpek.com
), its two partners in the joint acquisition vehicle
CC Polymers
, have now received permission from the US
Federal Trade Commission
(FTC) to proceed with their joint acquisition of
M&G USA
's PET/PTA complex in Corpus Christi, Texas / USA. The company is a subsidiary of the insolvent Italian company formerly known as
Mossi & Ghisolfi
– see Plasteurope.com of
27.03.2018
.
The sprawling unfinished complex designed to be the world's largest single-line vertically integrated PTA-PET production line and the largest PTA plant in the Americas has nameplate capacity to produce 1.3m t/y of PTA and 1.1m t/y of PET. To clinch the deal, which includes certain intellectual property and a desalination/boiler plant, the consortium bid USD 1.125 bn in cash and other capital contributions in 2018. The three partners, who are seen as M&G's largest creditors, will each take a third of the PTA and PET produced. Each company will be responsible for sourcing its own raw materials as well as independently selling and distributing the finished PTA and PET.
Commenting on the FTC clearance, Indorama group CEO
Aloke Lohia
said it represents "an important milestone and a giant step towards serving the growing market needs of recyclable PET for many years to come. With all approvals in place, we look forward to assist and fast-track the construction and create hundreds of jobs."
Commercial start-up of new PIA plant
At Decatur, Alabama / USA, Indorama has started commercial production at its new purified isophthalic acid (PIA) plant. The new facility will complement its PIA plant at Quimica / Spain, which owns the technology. Together, the two plants have nameplate capacity of 440,000 t/y. IVL claims to be the only PIA producer with facilities in both the two major customer regions of Europe, Middle East and Africa (EMEA) and the Americas. The acquisitive Asian producer said the Alabama site, back-integrated into raw materials paraxylene, PTA and naphthalene dicarboxylate (NDC), is the largest in its PET production chain with capacity for more than 2m t/y. MEG feedstock is shipped in from its olefins compex at Clear Lake, Texas.
Entry into US PET recycling market
At Athens, Alabama, IVL is acquiring a PET recycling facility from
Custom Polymers PET
(Athens;
www.custompolymerspet.com
). With the purchase, which it said is "strategically in line" with its long-term sustainability objectives, the group said it will expand its capabilities for rPET flake and pellets as well as enhance supply chain synergies for its recycled resin business and its capacity to drive closed-loop sustainable solutions.
The recycling facility consists of two production lines – for rPET flake and food-grade rPET pellets – with a combined capacity of 31,000 t/y. IVL asserts that the operation can offer "consistently high-quality" recyclate that meets customers' specific needs for packaging and fibres, thus overcoming some of the problems with fluctuations in the quality of post-consumer feedstock.
With already established production capabilities in Europe, Mexico and Thailand, Indorama is now establishing a bulkhead in the Americas for recycling as well. In October 2018, it established a joint venture with Canada's
Loop Industries
(Terrebonne, Québec;
www.loopindustries.com
) to manufacture and commercialise sustainable polyester – see Plasteurope.com of
04.10.2018
. Leveraging its acquired capabilities, the PET specialist said it will have a secure supply of the two recyclate types to meet the "ever increasing demand" for food-grade rPET packaging. The proximity of the new recycling facility to its US polyester production will create synergies of management and supply chains, it added.
This latest deal will allow the Indorama group to play a key role in promoting a circular economy and environmental sustainability by continuing to pursue the right opportunities to fill gaps in its portfolio, Lohia said.
09.01.2019 Plasteurope.com [241462-0]
Published on 09.01.2019
German version of this article...