LOOP INDUSTRIES
Multi-year rPET supply agreements with Coca-Cola and PepsiCo / Chemical recycler's net loss widens in H1 2018
Canadian recycling technology start-up
Loop Industries
(Terrebonne, Québec;
www.loopindustries.com
) has entered into multi-year supply agreements with leading and rival drinks retailers
Coca-Cola
(Atlanta, Georgia / USA;
www.coca-cola.com
) and
PepsiCo
(Harrison, New York / USA;
www.pepsico.com
).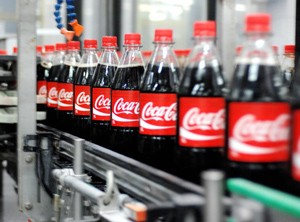 Coca-Cola European Partners is aiming for a minimum 50% recyclate content in PET bottles across Western Europe by 2025 (Photo: Coca-Cola)
Under the deal with Coca-Cola's Cross Enterprise Procurement Group (CEPG), Loop will supply 100% recycled PET from its plant in the US, which it runs in partnership with
Indorama Ventures
(IVL, Bangkok / Thailand;
www.indoramaventures.com
), to authorised bottlers who enter into agreements with Loop.
Ron Lewis
, chief supply chain officer at
Coca-Cola European Partners
(CCEP, Uxbridge / UK;
www.cokecce.co.uk
), a bottler member of CEPG, said, "Investments like this one with Loop Industries support our goal to ensure that at least 50% of the material we use for our PET bottles comes from recycled plastic, and will help us divert more materials from landfills and build a stronger circular plastic economy."
PepsiCo will also take product from Loop's joint venture plant in the US and incorporate the PET into its packaging by early 2020. Loop added that this agreement includes a marketing and communications plan to raise awareness of the importance of recycling, sustainability and a circular economy.
Mehmood Khan
, vice chairman and chief scientific officer at PepsiCo, said the partnership represented a step-change that will empower the company's drive towards creating a circular economy for plastics.
Loop's technology depolymerises waste polyester to its base building blocks, or monomers. The monomers are separated from one another, purified and extracted to yield monoethylene glycol (MEG) and dimethyl terephthalate (DMT), which are then repolymerised into rPET. Loop's recycled PET meets US
Food and Drug Administration
(FDA) requirements for use in food-grade packaging.
Coca-Cola and PepsiCo have made targets to boost recyclates use
Both drinks giants have previously announced initiatives to boost their use of recycled polymer. Coca-Cola is aiming to make all its packaging 100% recyclable and include 50% recycled material in its bottles and cans by 2030 – see Plasteurope.com of
19.03.2018
. PepsiCo's goals are to design 100% of its packaging to be recyclable or biodegradable, increase recycled materials in its plastic packaging (33% rPET in drink bottles and 25% recyclate in other plastic packaging), reduce the carbon impact of packaging and increase recycling rates by 2025 – see Plasteurope.com of
28.09.2018
.
However, the two brands were named and shamed in a recent marine cleanup and audit by environmental advocacy group
Greenpeace
(Amsterdam / The Netherlands;
www.greenpeace.org
) and its allies from global movement
Break Free From Plastic
(
www.breakfreefromplastic.org
). Both beverage companies were identified along with
Nestlé
as the world's top three plastics polluting companies – see Plasteurope.com of
12.11.2018
.
R&D and administrative costs contribute to Loop's net loss
In separate news, Loop Industries has announced a net loss of USD 3.5m (EUR 3.1m) for the three months ended 31 August 2018. This compares to a net loss of USD 2.2m for the same period in 2017 and, said Loop, was mostly due to a USD 1.3m increase in general and administrative expenses. For the six months ended 31 August 2018, the net loss increased to USD 7.1m from USD 3.7m from the same period in 2017, again because of higher general and administrative costs as well as increased R&D expenses of USD 700,000.
06.12.2018 Plasteurope.com 1017 [241286-0]
Published on 06.12.2018
German version of this article...