PLASTICS AND ENVIRONMENT
European Parliament greenlights commission's single-use plastics rules and adds more / Council will have the next word / Many stakeholders still critical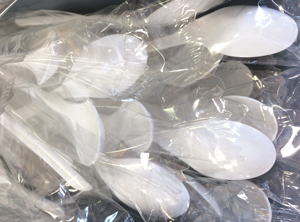 The European Parliament has voted to ban certain single-use plastic items such as cutlery (Photo: PIE)
By a vote of 571 to 53 with 34 abstentions, the
European Parliament
(EP) has signed off on the
European Commission
's (EC) draft plans to reduce the use of single-use plastics (SUP), with an eye in particular to curbing marine litter – see Plasteurope.com of
29.05.2018
. The proposed legislation focuses on the 10 single-use plastic products most widely washed up on European beaches as well as lost fishing gear and tackle. Together, the EC said these account for 70% of all marine litter. In all categories, the proposals write recycling and producer responsibility large.
From 2021, the EU's plans call for a ban on a number of single-use plastic products, provided alternatives are available. These are to encompass plastic cotton swabs, cutlery, plates, straws, drink stirrers and balloon sticks, which in future will have to be made exclusively from "more sustainable materials." The ban would not apply to products for which the EC believes there is currently no suitable alternative, such as burger and sandwich boxes or containers for fruits and vegetables or desserts. Their consumption, however, will have to be reduced by 25% up to 2025. The regulations also foresee collecting beverage bottles and recycling them at a rate of 90% by 2025.
Additionally, EU member states must collect at least 50% of lost or abandoned fishing gear that contains plastic, and recycle at least 15% by 2025. Producers of the plastic fishing gear, which in the EC's calculation accounts for 27% of waste found on Europe's beaches, must also contribute to the costs of collection and recycling.
Restriction on EPS takeaway containers
Taking up proposals made earlier by the EP's environment (ENVI) committee, the MEPs also voted to impose waste reduction measures on cigarette butts, which have been identified as the second most littered single-use plastic item, the bane of every non-smoking beach-goer. The new rules require EU member states to slash waste from cigarette filters by 50% up to 2025 and by 80% up to 2030. Tobacco manufacturers will be obliged to cover the costs of collecting the waste, including transport and treatment.

ENVI proposals also approved by the EP call for restriction of fast-food containers made of EPS and products made of oxo-degradable plastics. Plans for an EU-wide ban on lightweight carrier bags were not adopted. Next up to approve the commission's plans or make changes is the European Council, which some reports say could begin deliberating as early as November. The goal is to have the new rules in place before the parliamentary elections in March 2019.
FEAD calls for recycled content mandates
Since the plastics proposals were first floated by the EU in May, many stakeholders have weighed in with comments. While some have praised the envisaged legislation, others think it would go too far. The
European Federation of Waste Management and Environmental Services
(FEAD, Brussels / Belgium;
www.fead.be
) called the EP vote "an important first step" in the upcoming negotiations between the parliament and the council. FEAD's president,
Jean-Marc Boursier
said the waste management sector is "confident" that EU negotiators will succeed in deciding by December 2018 on a level of mandatory recycled content that will trigger the uptake of plastic recyclate in beverage bottles. "By doing so, the EU will finally experience a circular shift that is long overdue," he commented.
EuPC sees health and hygiene risks
Taking a different perspective,
European Plastics Converters
(EuPC, Brussels;
www.plasticsconverters.eu
) said approval of the legislative package, which was "rushed by the commission," is a "negative result" for the European market and local jobs, as it will have a detrimental effect on health and hygiene. EuPC has urged that the legislation be stopped. As an alternative, it suggests that, instead of a ban, an EU-wide anti-littering regulation could be drafted.
European Bioplastics
(EUBP, Berlin / Germany;
www.european-bioplastics.org
), which represents biodegradables manufacturers, said the EP's decision to restrict the use of single-use cutlery and plates does not sufficiently considering the reality of food consumption in Europe. "In certain closed-loop contexts, such as canteens, air travel or sport and music events, these are an indispensable and efficient solution to guarantee safety and hygiene for food and drinks while ensuring at the same time waste collection and recycling," the organisation said. It also pointed to biodegradable certified plastics, which can be recycled organically together with food waste, as an acceptable solution.
01.11.2018 Plasteurope.com 1014 [240974-0]
Published on 01.11.2018
German version of this article...