CHINAPLAS 2019
Focus on circular economy / First "Plastics Recycling, Recovery & Sustainability Conference" to be held in Guangzhou / More visitors expected from "New Silk Road" / China's recycling chain set for upgrades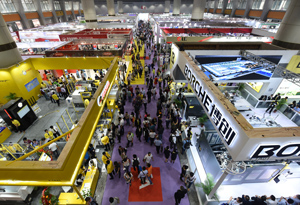 More than 3,400 exhibitors are expected at Chinaplas 2019 in Guangzhou (Photo: Adsale)
The next "Chinaplas" (
www.chinaplasonline.com
) is set to take place from 21 to 24 May 2019 at the "China Import and Export Fair Complex" in Guangzhou, Guangdong / China. Over 3,400 exhibitors and 180,000 visitors from 150 countries and regions are expected to attend next year's plastics and rubber trade fair.
The event is organised by
Adsale
(Hong Kong / China;
www.adsale.com.hk
) and co-organised by
China National Light Industry Council
(CNLIC, Beijing;
http://en.clii.com.cn
),
China Plastics Processing Industry Association
(CPPIA, Beijing;
www.cppia.com.cn
),
China Plastics Machinery Industry Association
(CPMIA, Ningbo, Zhejiang / China;
www.cpmia.org.cn
),
Guangdong Plastics Industry Association
(Yuexiu Qu, Guangzhou / China;
www.gdpia.com
),
Plastic Trade Association of Shanghai
(SPTA, Shanghai;
www.sspi.com.cn
) and
Messe Düsseldorf China
(Shanghai;
www.mds.cn
).
Circular economy a major topic worldwide
Having focused on Industry 4.0 for three years, Chinaplas 2019 will give the topic of circular economy a prime position, highlighting the market potential it offers. About the 33rd edition of Chinaplas, Adsale general manager
Ada Leung
said "circular economy will be the next big trend."
The European plastics industry is well versed in this topic, and the global market has witnessed multinationals facilitating the move to a more circular economy with their new policies on recycled plastics.
Adidas
sold 1m pairs of shoes made of ocean plastics waste in 2017 and plans to phase out the use of virgin polyester by 2024 (see Plasteurope.com of
27.07.2018
), and other companies such as
Coca-Cola
(see Plasteurope.com of
19.03.2018
),
Unilever
(see Plasteurope.com of
26.01.2017
),
Volvo
(see Plasteurope.com of
25.06.2018
) and
Ikea
(see Plasteurope.com of
14.06.2018
) have also announced intentions to increase the use of recycled plastics.
Kraft Heinz
(Chicago, Illinois / USA;
www.kraftheinzcompany.com
) also aims to have all its packaging be recyclable, reusable or compostable by 2025, and
Gree Electric Appliances
(Qianshan, Guangdong / China;
www.gree.com
) has set up a renewable resource company with the goal of implementing an ecological cycle in the home appliance industry chain.
Conference to focus on innovation and challenges in recycling
At Chinaplas 2019, the "Bioplastics Zone" set up in 2011 will once again be featured, the "Recycling Technology Zone" launched in 2016 will receive an upgrade and the first "Plastics Recycling, Recovery & Sustainability Conference" centring on technological innovation and how to best implement advanced technology will be held at the trade fair. The conference agenda also features an analysis of policies, regulations and technologies relating to recycling as well as discussions on industrial trends, opportunities, challenges and solutions.
With China's waste import bans of 2017 and 2018 (see Plasteurope.com of
26.07.2017
and
16.05.2018
), a massive market and limited raw materials, Adsale says the recycling system of renewable resources is in need of an overhaul. Previous to the bans, waste imports were vital for the Chinese waste processing and recycling industry, which lacked a complete recycling chain. According to Adsale, 7.3m t of plastics waste were imported into China, amounting to USD 3.7 bn in 2016.
In addition to the circular economy, Chinaplas will focus on the new business opportunities for the plastics and rubber industries provided by the "One Belt, One Road" initiative (see Plasteurope.com of
30.05.2017
) as well as changes in the world economy. Adsale aims for Chinaplas to have an expanded presence of overseas markets, such as ASEAN countries, as well as key countries along the "New Silk Road".
Visitors who register at
www.chinaplasonline.com/prereg
before 13 May 2019 can get an early-bird rate. All registrations before 28 February will be entitled to the express entry in addition to the reduced rate.
08.11.2018 Plasteurope.com [240911-0]
Published on 08.11.2018
German version of this article...