PEPSICO
Collaboration with Recycling Partnership to boost household collection in US / Step to reverse declining recycling rates for common plastics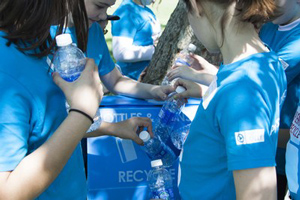 PepsiCo kicks off multi-million US recycling partnership (Photo: PepsiCo Foundation)
Food and beverage giant
PepsiCo
(Purchase, New York / USA;
www.pepsico.com
) and US non-profit Organisation
The Recycling Partnership
(Falls Church, Virginia;
www.recyclingpartnership.org
) have launched the "All In On Recycling" challenge, which is intended to improve recycling for 25m households across the US. The goal of the challenge is to collect up to 1.9m t of recyclable materials, including 7 bn bottles and cans, in the next five years.
PepsiCo is providing the challenge with USD 10m in funding, with the goal to raise an additional USD 15m in donations from businesses and organisations. On top of this, more than 2,800 participating communities are expected to boost the collective investment, with an additional USD 75m in municipal funding.
Half of the total USD 100m are to help provide kerbside carts to more than 550,000 households as well as the infrastructure to collect recyclables from apartment buildings. The other half of the funding is intended to support recycling education and operational programmes that will increase collection.
Chairman and CEO of PepsiCo
Indra Nooyi
said, "Our collaboration with The Recycling Partnership represents a major step toward fulfilling those responsibilities by helping reverse the decline in recycling rates for aluminium and many common plastics."
Less than 50% of US household waste is recycled
The US beverage producer notes the lack of infrastructure, widely varying municipal recycling programmes and low awareness of proper recycling practices as contributing to the loss of more than half of the material that could be recycled from US households. The problem is not due to unwillingness, though, since 94% of US consumers are supportive of recycling, according to the
Carton Council
(Denton, Texas;
www.cartonopportunities.org
).
This residential recycling initiative is part of PepsiCo's sustainability programme. By 2025, the company's goals are to design 100% of its packaging to be recyclable or biodegradable, increase recycled materials in its plastic packaging, reduce the carbon impact of packaging and increase recycling rates. In the last nine years, the group says it has invested approximately USD 55m in recycling efforts in the US. In the UK, PepsiCo is part of the plastics waste initiative "UK Plastics Pact" – see Plasteurope.com of
04.05.2018
.
28.09.2018 Plasteurope.com [240662-0]
Published on 28.09.2018