SINGLE-USE PLASTICS
Ikea sets 2020 target to remove disposable plastics in restaurants / Switzerland makes no move to follow EU's proposal for single-use products / Plastic straws essential for some people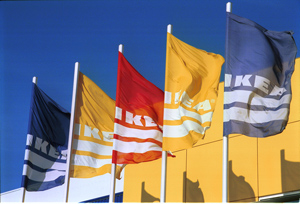 Ikea is aiming to remove all disposable plastics in its restaurants worldwide by 2020 (Photo: Ikea)
Ikea
(Leiden / The Netherlands;
www.ikea.com
) has announced voluntary commitments to "inspire sustainable living." By 2020, the furniture giant aims to remove all single-use plastic products, such as plates and cutlery, from its Ikea range worldwide, and from customer and co-worker restaurants in stores by 2020. This applies to the biggest Ikea franchisee,
Ingka Holding
, comprising 363 stores in 29 markets. By 2030, the company also wants to have all Ikea products designed with new circular principles, using only renewable and recycled materials. Adding to its sustainability strategy, Ikea last year launched a mattress recycling programme in North America – see Plasteurope.com of
09.11.2017
.
In the meantime, there are local media reports that Switzerland has no plans to implement any restrictions on single-use plastics, like those proposed by the
European Commission
to reduce marine litter – see Plasteurope.com of
29.05.2018
. The Swiss government has apparently said it would instead "favour solutions developed by the business sector."
Disposable plastic straws are a necessity for some
Across the ocean, bans on single-use plastics are becoming more widespread at the municipal level. Businesses as well as schools and universities are joining in too. The
University of Portland
(Portland, Oregon / USA) estimates it will save 9,000 straws per month with its recent ban. The US university already eliminated disposable plastic water bottles on its campus eight years ago.
US foodservice company
Bon Appétit
(Palo Alto, California;
www.bamco.com
), which operates over 1,000 cafés in 33 states, recently announced its company-wide ban on plastic straws and stirrers by September 2019. CEO and cofounder
Fedele Bauccio
said, "When I heard the stats and learned how much damage is being done by straws – a product of convenience – my gut reaction was, we have to change this!" According to Bon Appétit, it purchased 16.8m plastic straws and almost 420,000 plastic stirrers, as well as 9.1m wooden stirrers, in 2017. It says paper straws will be provided "to guests with physical challenges or who strongly feel they need a straw."
One case against a sweeping ban on plastic straws is consideration of people with disabilities who depend on straws for drinking. The growing anti-plastic straw movement in restaurants and bars, such as in Ireland and the UK – see Plasteurope.com of
10.05.2018
– is creating a disadvantage for people with a range of health conditions that rely on bendable straws to drink. Alternative materials to plastic are often functioning poorly as replacements in these cases.
Canada, this year's G7 host and among the countries that signed the G7 ocean plastics strategy – see Plasteurope.com of
13.06.2018
– has witnessed single-use plastic bans in various forms across the country. The city of Vancouver has a "Single-Use Item Reduction Strategy" within its "Zero Waste 2040" plan, and implemented a ban on plastic straws in restaurants and bars, "with some exceptions for health care needs." The city also plans on banning EPS foam cups and takeaway containers on 1 June 2019. Each week, around 2.6m plastic-lined paper cups and 2m plastic bags are collected in public waste bins in the city.
14.06.2018 Plasteurope.com [239934-0]
Published on 14.06.2018