PLASTICS AND ENVIRONMENT
Waitrose joins list of stores moving away from single-use coffee cups / Starbucks trials disposable cup fee in London / DS Smith advances recycling
UK supermarket chain
Waitrose
(Bracknell;
www.waitrose.com
) has announced it will cease to use takeaway coffee cups in its stores, the latest retail chain to respond to environmental concerns about the containers. The group said it would initially stop using the cups in nine stores from the end of April to assess how the changeover to reusable containers could be handled. Waitrose intends to stop using disposable cups altogether by the end of 2018, a move that it said would save 52m cups a year.
UK government estimates suggest that 2.5 bn plastic-lined paper disposable coffee cups are used – and then thrown away – in the country each year. The liner is designed to meet quality and safety standards, and prevent leaks. The government had announced that it was considering to introduce a 25 pence (EUR 0.29) fee on single-use coffee cups in the UK, in order to reduce waste – see Plasteurope.com of
12.01.2018
.
Tor Harris
, head of sustainability and responsible sourcing at Waitrose said it is a major change but removing all takeaway disposable cups is "the right thing to do for our business." Harris said the group is confident "the majority of customers will support the environmental benefits. It underlines our commitment to plastic and packaging reduction and our aim is to deliver this as quickly as possible."
Waitrose's move is the latest in a series of initiatives undertaken by UK supermarkets and other retailers – see Plasteurope.com of
24.01.2018
– to respond to consumer concerns about the environment, and show off their "green" credentials. Last month the
Co-op
(Manchester / UK;
www.co-operativefood.co.uk
) announced it would start selling water in plastic bottles that contained 50% recycled PET. The Co-op said the resulting bottles would be "less aesthetically pleasing" than containers made using virgin material, and its stores would be gauging consumer buying behaviour.
Starbucks and DS Smith developing sustainable cup solutions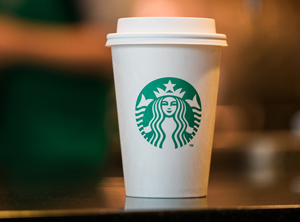 Starbucks is seeking a next-generation sustainable coffee cup (Photo: Starbucks)
In February,
Starbucks
(Seattle, Washington / USA;
www.starbucks.com
) announced selected stores in London would trial charging a 5 pence per disposable coffee cup, together with "prominent" marketing of reusable cups. At the same time, the company will increase efforts to ensure that "drink-in customers are always offered a ceramic cup, thus cutting paper use even further." Starbucks said it recognises there is growing concern about the number of single-use paper cups being used, and the trial initially will last for three months.
Recently, the coffee company also partnered up with investment company
Closed Loop Partners
(
www.closedlooppartners.com
) to invest USD 10m for developing a sustainable coffee cup. The investment will establish a consortium to launch the "NextGen Cup Challenge", which will award grants to entrepreneurs working on the development of more sustainable cup solutions. The company says this is a first step for a global solution allowing cups to be diverted from landfills and composted, or given a second life as recycled material.
Packaging group
DS Smith
(London / UK;
www.dssmith.com
) says its UK paper mill in Kent can successfully recycle plastic-lined paper cups. According to the company, there are two main challenges to recycling single-use coffee cups – removal of the plastic lining and ensuring the cups have not been badly contaminated by food waste. DS Smith has called on the UK government to put in place measures "to support better cup collection" and believes cup recycling development "radically improves the UK's ability to reprocess its used coffee cups." The company belongs to the
Paper Cup Recovery and Recycling Group
(PCRRG;
www.pcrrg.uk
), which is made up of member organisations from the paper cup supply and recovery chain in the UK and Europe.
16.04.2018 Plasteurope.com [239493-0]
Published on 16.04.2018