CHINAPLAS
Asia's top plastics trade fair opens in Shanghai / 180,000 visitors expected
Plastics and rubber trade fair "Chinaplas" (
www.chinaplasonline.com
) is taking place in Shanghai in the new clover leaf-shaped "National Exhibition and Convention Center" (NECC) with around 340,000 m² of exhibition space, for the 4,000 exhibitors and 180,000 visitors expected from 24-27 April 2018. There are 14 pavilions for Austria, Canada, France, Germany, Iran, Italy, Japan, Korea, China, Switzerland, Turkey, Taiwan, UK and the US.
The trade fair covers a range of processes of the plastics and rubber production chain, and includes raw materials, technology and services. Over 1,200 materials suppliers and more than 4,200 machinery companies are congregating at the NECC.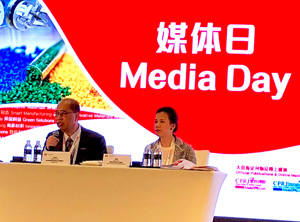 Stanley Chu (left) and Ada Leung at the Chinaplas press conference in Shanghai (Photo: PIE)
Ahead of opening day,
Stanley Chu
, chairman of trade fair organiser
Adsale
(Hong Kong / China;
www.adsale.com.hk
), gave a talk at the Chinaplas press conference outlining China's future, with respect to the plastics industry. The country's GDP, which is about one half of the share of Asia's GDP, and its middle-class population – the major users of plastics products – are set to keep growing in the coming decade. Per capita consumption of plastics was 54 kg in 2017, higher than the forecast of 50 kg by 2025. Chu noted the "huge development potential" for the Chinese plastics industry.
He also said that China has been the world's largest auto maker for the ninth year running – 29.01m vehicles were produced in China in 2017, a year-on-year growth rate of almost 3.2%. In addition, China's "new energy" vehicles have the potential for great development – see Plasteurope.com of
07.03.2018
. For packaging sales, China is forecast to overtake the top position in 2020, currently held by the US.
The theme of Chinaplas is "Innovation is Key to the Future", and Adsale's general manager
Ada Leung
said three main areas the event is focused on are high-tech materials, smart manufacturing and green solutions. She also outlined the NECC's three-floor structure, where level 1 has eight exhibition halls dedicated to machinery companies. A mezzanine level is solely for catering and meeting rooms.
Chinaplas is being held at the NECC in 2018 (Photo: CME)
In the Q&A session, Chu answered a question regarding earlier doubts that the NECC was compatible for machinery displays. He said management supported Chinaplas with the compressed air and water needed for machinery exhibits, which other trade fairs might not require. He was confident that the NECC will have no problem supporting other kinds of trade fairs in future. According to Leung, the new centre allows better exhibiting areas, making it easier for visitors to navigate the halls.
24.04.2018 Plasteurope.com [239465-0]
Published on 24.04.2018
German version of this article...