SINGLE-USE PLASTICS
UK government launches call for evidence to investigate tax on packaging and takeaway items / BPF supports measures to reduce plastics waste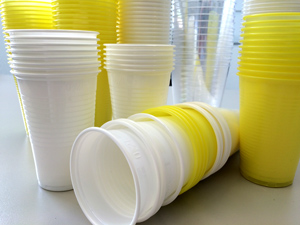 UK government is considering a tax on plastic takeaway items (Photo: PIE)
As previously announced (see Plasteurope.com of
23.11.2017
), the UK government is planning to assemble comprehensive evidence on a single-use plastics tax. It released its call for evidence, titled "Tackling the plastic problem: using the tax system or charges to address single-use plastic waste", to explore how changes to the tax system or fees could be implemented and thereby, reduce the amount of single-use plastics waste. The publication includes examples of plastics such as takeaway boxes, disposable coffee cups, stirrers, plastic wrap, PS packaging and cigarette filters. Earlier this year, the UK government announced it was considering introducing a 25 pence fee on disposable coffee cups to cut waste (see Plasteurope.com of
12.01.2018
).
The government wants to consider many options for using the tax system to address single-use plastic waste, and to drive innovation, informed by the evidence gathered from the call. This will look across the supply chain, from production and retail to consumption and disposal, in order to decide on "the best course of action." In an annex in the call for evidence, existing economic incentives for waste in the UK are listed. These include producer responsibility schemes (see Plasteurope.com of
25.04.2017
), landfill tax and plastic carrier bag fees (see Plasteurope.com of
14.09.2015
).
Chancellor
Philip Hammond
says, "Let us be clear – this process is not about placing unnecessary new burdens on business, but about ensuring the right incentives are in place to encourage sustainable behaviours and drive technological progress, which in turn will create new jobs and prosperity."
The
British Plastics Federation
(BPF, London;
www.bpf.co.uk
) welcomed the call for evidence, with director-general
Philip Law
saying all involved in the debate want the same thing – which is to reduce plastic waste and leave the environment a better place for the next generations. "Any material that can be only used once – whether derived from plastic or anything else – has no place in the future and should be reduced." BPF supports measures that encourage reusable and recyclable plastics, as well as decrease litter. The federation noted the "devil of course will be in the detail," and the broader point that plastic has many positive uses in our society, such as in hospitals and food security, must not be forgotten.
20.03.2018 Plasteurope.com [239301-0]
Published on 20.03.2018