CIRCULAR ECONOMY
Far-reaching EU packaging directives poised for adoption / Lengthy transition periods for recycling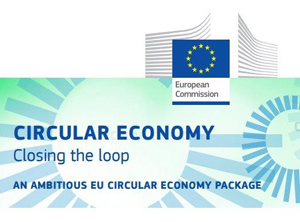 (Image: European Commission)
Two key processes for the circular economy have reached their final stages at the European level. At the end of December 2017, the negotiating teams at the
European Parliament
and the EU council presidency came to an agreement with the
European Commission
during informal trilogue negotiations on compromises for the EU Waste Framework Directive and the EU Packaging and Packaging Waste Directive (see Plasteurope.com of
22.12.2017
). Agreements were approved by the European Parliament's environment committee on 27 February 2018. In the next step, which will most likely be on 16 April, the parliament will formally vote on the agreement.
The two new EU directives make provision for 55% of municipal solid waste to be recycled by 2025, 60% by 2030 and 65% by 2035 in individual member states. The EU parliament had originally called for a considerably higher recycling rate – of 70% by 2030. Member states with a recycling rate of less than 20% or a landfill rate of more than 60% in 2013 can benefit from transition periods of up to five years and deviations of 5% for the recycling targets, as set out in the bill. A number of EU countries will doubtless make use of these exceptions – especially the most recent states to join the EU, such as Romania (see Plasteurope.com of
28.02.2018
), Bulgaria, Croatia and Latvia, as well as Greece (see Plasteurope.com of
23.02.2018
) and Malta.
When it comes to recycling of packaging materials too, the member states have watered down the ambitions of the European Parliament. Instead of the 75% demanded by the EU parliamentarians, the target is for 65% of packaging to be recycled by 2025 and 70% by 2030. Transition periods of up to five years and shortfalls of no more than 15% for a single material target, or spread over two targets, are permitted. None of the recycling targets is permitted to fall below 30%, however. For plastics packaging, a recycling rate of at least 50% is planned by 2025 and 55% by 2030. The EU commission intends to monitor the progress made by member states more closely in future. Countries taking advantage of the transition periods must notify the commission 24 months in advance and submit a plan explaining the reasons for non-attainment of the objectives. They must additionally present measures that will enable them to achieve the goals. Apart from this, the recycling targets for packaging are to be reviewed in 2024 and possibly increased. Member states are required to introduce extended producer responsibility (EPR) for all packaging by 2024 and to have systems in place for this purpose.
In the plastics strategy presented by the EU at the start of the year, the topic of recycling now features as one of the main themes – with all plastics packaging to be "recyclable or reusable" by 2030 (see Plasteurope.com of
19.01.2018
).
More details about the Circular Economy Package (CEP) may be found
here
.
13.03.2018 Plasteurope.com [239194-0]
Published on 13.03.2018
German version of this article...