MARINE LITTER
Ocean Conservancy and WPC part of USD 150m initiative to combat ocean plastics / Waste and recycling management in Southeast Asia / EU commits to fund European and global strategies and centres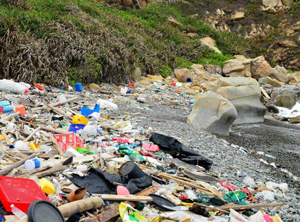 The Ocean Conservancy and the EU have stepped up commitments to tackle marine plastics waste (Photo: Ocean Conservancy)
Ocean Conservancy
(Washington, D.C. / USA;
www.oceanconservancy.org
) and its partners, including the
Trash Free Seas Alliance
, have announced an initiative to raise over USD 150m of funding for the prevention of plastic waste from getting into oceans. The announcement was made at the "Our Ocean" conference (5-6 October 2017) in Malta. The initiative is to fund waste management and recycling solutions in Southeast Asia, with a focus on investments to improve collection, sorting and recycling markets.
Susan Ruffo
, Ocean Conservancy's managing director of international initiatives, says, "Our research has found that by improving waste management in Southeast Asian countries, we can cut the flow of plastic going in the ocean by half by 2025." According to the conservancy, nearly half the estimated 8m t of plastics that flow into the oceans each year escape from waste streams in only five developing Asian economies – Indonesia, Philippines, Vietnam, Thailand and China.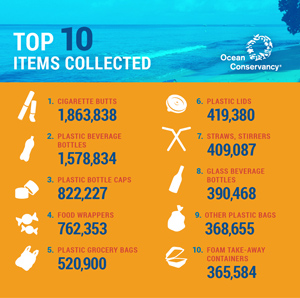 (Image: Ocean Conservancy)
The new funding mechanism will be operated by investment firm
Closed Loop Partners
(
www.closedlooppartners.com
), which will raise funding from the private sector, governments and finance institutions, as well as build up waste management projects. Ocean Conservancy notes that consumer goods companies and plastics manufacturers support the project, with early commitments from
PepsiCo
,
3M
,
Procter & Gamble
, the
American Chemistry Council
and the
World Plastics Council
(WPC;
www.worldplasticscouncil.com
) having already fully funded the design phase.
On 16 September 2017, Ocean Conservancy's "International Coastal Cleanup" drew hundreds of thousands of people worldwide in the "world's largest single-day volunteer effort to remove trash from local beaches and waterways." This was the 32nd edition of the event that was launched in 1986 in Texas. It is estimated that since the clean-up first started, more than 12m volunteers have removed nearly 100,000 t of trash.
EU funds extensive projects and centres across the globe
The EU also announced many commitments to foster "cleaner and safer" seas at the Our Ocean conference. Among these is the launch of
WISE-marine
, an information portal for the public on the European marine environment. The EU also announced the following funding commitments: a total of EUR 4.3m in 2017 for the implementation of and regional cooperation for the
Marine Strategy Framework Directive
, EUR 2.85m for marine pollution prevention projects and EUR 2.5m for marine pollution exercises coordinated between both EU and neighbouring countries. Other commitments include draft measures, as part of its upcoming plastics strategy in 2017, to reduce plastics leakage into the environment and seas.
Attention was drawn to climate change, which affects oceans in a variety of ways, such as rising sea levels and acidification. The EU made further commitments of EUR 10m for a project with the
International Maritime Organization
(IMO, London / UK;
www.imo.org
) regarding climate change mitigation in the maritime shipping sector, with the aim to establish five
Maritime Technology Cooperation Centres
(in Africa, Asia, the Caribbean, Latin America and the Pacific). The centres will form a global network to enable developing countries to create "energy-efficiency" measures in maritime transport. Also announced was EUR 1.5m funding to reduce black carbon emissions in the Arctic, with the intention to reinforce international cooperation, and EUR 600,000 for an integrated project focused on three areas of the
EU Arctic policy
.
Despite the UN's 2020 target to have 10% of the world's marine and coastal areas protected by law, the EU noted that less than 5% are now protected, and there is a lack of enforcement. It pledged EUR 20m to support marine protected areas in African, Caribbean and Pacific countries through "BIOPAMA II" (Biodiversity and Protected Areas Management Programme), as well as EUR 1.5m to analyse ecosystems and economic activity on the mid-Atlantic Ridge and the Rio Grande Rise, in order to help define a coherent set of "areas of particular environmental interest" in the Atlantic Ocean.
20.10.2017 Plasteurope.com [238186-0]
Published on 20.10.2017