K 2016
World's largest plastics fair wraps up with new records / About 232,000 visitors in Düsseldorf / Share of foreign visits rises / Excellent mood / Global plastics industry assumes new role
This year's "K" fair (
www.k-online.de
), which closed its doors on 26 October, was an overwhelming success. Figures indicate that 232,000 visitors came to the fairgrounds during the event's eight-day duration. The share of international attendees rose once again, and on a like-for-like basis has increased from 65% to 70%. More than 40% of them came from outside Europe. The fair's 3,285 exhibitors were very satisfied with the event, some even enthusiastically so. "This was the most exciting 'K' I have ever experienced," said fair president
Ulrich Reifenhäuser
at the closing press conference, held on the last day.
The success underlines the unique role of K as the sector's main global fair, which reflects the state of the world's plastics industry and at the same time sets important impulses for technological and economic innovations. After all: "From day one it was obvious that customers are not just eager to learn about new technologies, they also want to acquire them. We are seeing significant investment in all end markets and all world regions," Reifenhäuser said.
This was true for all products on display at the fair. Exhibitors described the business negotiations with visitors as serious, and also testified to a notable willingness to invest. Apart from that, they highlighted the increasingly international nature of the fair, as well as the expertise of the visitors. What's more, many gained the impression that a disproportionally high share of top managers and owners came to Düsseldorf this year – an impression confirmed by organiser
Messe Düsseldorf
(
www.messe-duesseldorf.de
) in its own survey.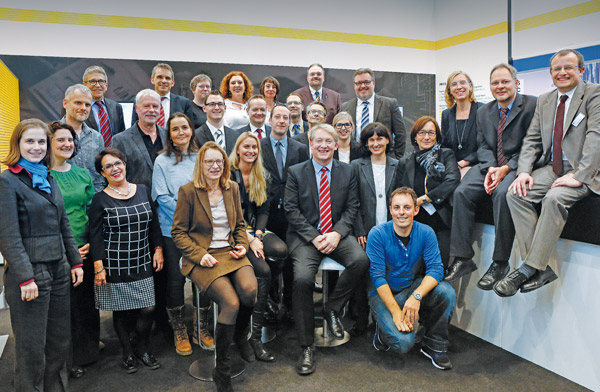 The editorial and sales staff of KI Group – comprised of PIE, KI and K-PROFI – was in charge of the German-language fair daily for the first time (Photo: PIE)


The editors of KI Group (composed of Plasteurope.com, KI and K-PROFI) were able to confirm these impressions. For the first time this year, our publishing house was responsible for the official German-language daily fair newspaper, which proved to be a success for everyone involved. The show was booming from day one, and one hour into it, there was no denying the strong visitor interest. On day two, 45,000 entries were recorded, pushing the infrastructure in Düsseldorf to its limits.

From a thematic point of view, "Industry 4.0" was the dominant topic in the machinery halls especially. Although the concept is still under development, a course has now been chartered and the topic is expected to hold the segment in its grasp for some years to come. Whatever the concrete solutions will look like, their key characteristic will be greater flexibility, Reifenhäuser said ahead of the fair's launch.

But the trend is also visible elsewhere. Feedstock producers, for instance, are increasingly differentiating their materials. The topic of molecular architecture was raised in many discussions. Twenty years after metallocene technology was first introduced, we are now seeing some of its promise fulfilled. As a result, commodity materials are becoming much more specialised, customised for specific applications and can easily become part of hybrid solutions.

At the same time, it looks as though traditional engineering materials are starting to morph into commodities, at least in the base polymer segment. Polymers appear to have become the base material from which application-specific solutions are developed. This technological trend, which has been in evidence for some time, looks poised to ring in a new era of business transactions. The relationship between global and local in the polymer value chain is currently redefining itself.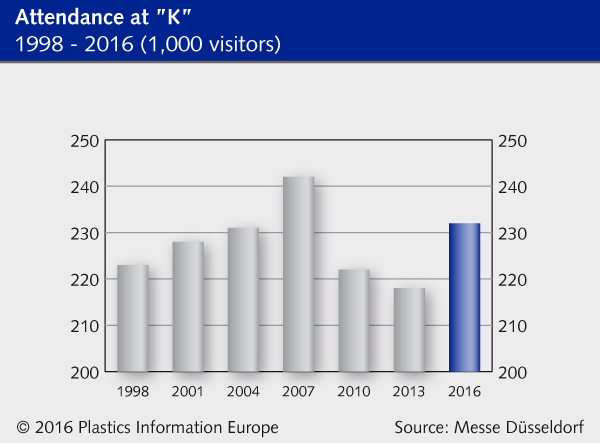 In the peripherals segment – including tools and moulds – the developments of the last 10 to 15 years brought this year's K to a new level. There was a previously unfelt sense of professionalism that characterised business in halls 1-4 and 9-12. Elaborate stalls with eye-catching presentations testified to the maturity of this particular industry branch. At the same time, sensor and control technology as well as automation solutions have become an important pillar of Industry 4.0. Thanks to R&D and product development, additive manufacturing is also increasingly entering the plastics world. The keyword here once again is flexibility.

All considered, K showed that the plastics industry has entered a new age of maturity. Globalisation is now a fact, and no longer a trend regarded with a certain sense of scrutiny or concern. Technologies are being fine-tuned, and are branching out. The plastics industry seems to have come of age, and the confidence of this – still rather young – segment is starting to build. It looks as though the industry has started to realise the role of plastics as an epoch-making game-changer.

In the coming years the relationship between the industry and the different application markets will become increasingly important, exhibitors and visitors across the entire value chain agreed. While it may yet be too early to conclude with certainty, it looks as though K 2016 could enter the annals as a milestone in industrial history.

In three years' time, we will be all the wiser. The next K will take place from 16-23 October 2019, and we are already looking forward to seeing you again in Düsseldorf!
27.10.2016 Plasteurope.com 966 [235423-0]
Published on 27.10.2016
German version of this article...