PVC RECYCLING
VinylPlus initiative collects more than 480,000 t of PVC waste in 2014 / Recovinyl accounts for largest share / Additives remain a problem / New "RecoMed" research project launched
Some 474,411 t of PVC waste was recycled through
Recovinyl
(Brussels / Belgium;
www.recovinyl.com
) in 2014, with the UK alone contributing more than 20% – or 95,525 t – the latest figures published by the European PVC recycling scheme show. While PVC-U profiles waste made up about half of the recycled materials in the UK, the remainder conisted of pipes, cables and rigid and flexible PVC films.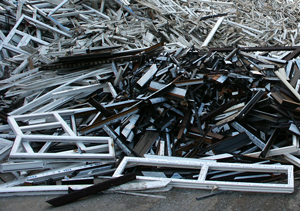 Waste profiles made up half of the more than 95,000 t of PVC waste collected in the UK in 2014 (Photo: Recovinyl)
Recovinyl, which spans 16 European countries and is comprised of 160 companies, is the operational arm of the European PVC industry's 10-year voluntary commitment VinylPlus (
www.vinylplus.eu
). The latter recycled about 481,018 t of PVC waste last year, indicating that Recovinyl makes up the vast majority. VinylPlus has set itself the target of recycling 800,000 t of PVC waste by 2020. With that in mind, the initiative's chairman
Michael Träger
recently said that this year, "we will undertake the mid-term critical review of our targets, measuring and evaluating our initiatives up to now, to place our sustainability programme in the context of ongoing socio-economic and environmental developments."
Despite the year-on-year gains (in 2013, VinylPlus recycled 444,468 t of PVC waste – see Plasteurope.com of
16.05.2014
), uncertainties regarding the interpretation of several EU regulations remain, including those on REACH, CLP and hazardous waste, specifically with regard to additives. These uncertainties could jeopardise recycling activities, Träger warned.
However, in that field, too, progress was made in 2014. Since 2007, use of lead-based stabilisers has decreased by 86% in the EU 28, which paves the way for completion of their substitution by the end of this year. Another achievement in this regard is the methodology developed by VinylPlus' Additives Task Force to evaluate the use of substances utilised as additives in PVC products.
A new field offering recycling opportunities that is currently being investigated by "RecoMed", a VinylPlus-funded research project jointly undertaken with
Axion Consulting
(Bramhall, Cheshire / UK;
www.axionconsulting.co.uk
) and the
British Plastics Federation
's (BPF, London / UK;
www.bpf.co.uk
) Vinyls Group, is non-infectious medical PVC waste from hospitals, such as IV fluid and oxygen bags.
e-Service
:
VinylPlus Progress Report 2015 as a
PDF file
14.05.2015 Plasteurope.com [231182-0]
Published on 14.05.2015
German version of this article...