PLASTICS AND HEALTH
European food watchdog EFSA finds BPA to have "no health risk" / Study may weaken France's push for reclassification / REACH administrator ECHA also in the game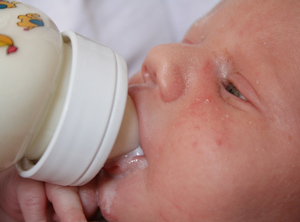 (Photo: Yvonne Bogdanksi/Fotolia)
The latest study by the
European Food Safety Authority
(EFSA;
www.efsa.europa.eu
) for the European Commission, looking at the role of bisphenol A as a possible endocrine disruptor, concludes basically that it is not. This evaluation could seriously weaken the position of France, which is seeking to restrict usage of the chemical used as a feedstock for polycarbonate and in epoxy resin-based can liners on the grounds it may be a human reproductive toxicant – for most recent coverage see Plasteurope.com of
08.12.2014
.
In a report on the re-evaluation just completed, the food watchdog said it believes that exposure "poses no health risk to consumers of any age group," either from diet or a combination of other external sources such as thermal paper. "To be as open and transparent as possible,"
Trine Husoy
, who chairs EFSA's BPA working group, said it "thoroughly consulted and engaged with national authorities and stakeholders to ensure that the widest possible range of scientific views and information were considered."
The food agency has evaluated and re-evaluated BPA several times, as has the
US Food and Drug Administration
(FDA), without reaching definitive conclusions. In January 2014, midway through the latest consultation – see Plasteurope.com of
22.01.2014
– EFSA said it had identified "likely adverse effects" on the liver and kidney as well as the mammary gland as being linked to BPA, but believed the risk to be manageable. In the final analysis, it concluded that only exposure at levels "hundreds of times above" the current tolerable daily intake (TDI) was likely to produce such effects.
While adding as a caveat that a degree of uncertainty remains as to the role of BPA in other health threats, EFSA said available data does not support this threat. It stressed also that the evaluation just concluded – using new methodologies to assess potential health effects – is the most comprehensive ever and included the widest range of data. Husoy noted additionally that this marks the first time non-dietary sources such as the thermal transfer paper used in cash register receipts were studied, but acknowledged that "there is a lack of supporting data on dermal exposure."
The food agency said it does not plan to reconsider its recommended daily exposure level until the long-term research by the
US National Toxicology Program
is available for evaluation in two- to three-years' time. In the meantime, it remains unclear what effect, if any, EFSA's latest report will have on the planned BPA restrictions in France. These were planned to take effect from the beginning of 2015, but industry organisations such as
PlasticsEurope
(Brussels / Belgium;
www.plasticseurope.org
) urged authorities to await completion of the EFSA consultation – see Plasteurope.com of
05.09.2013
. In reaction to the conclusions, PlasticsEurope said such blanket restrictions were unacceptable. France has given plastics producers and converters until mid-2015 or the latest the start of 2016 to clear their inventories of products containing BPA. ECHA, the agency that administers REACH, also has been studying BPA at the request of France. Its report was due for completion late last year or early this year.
23.01.2015 Plasteurope.com 924 [230323-0]
Published on 23.01.2015
German version of this article...