CARRIER BAGS
Scotland's retailers now charging 5p for all single-trip bags of all materials / England to follow suit in 2015 / Northern Ireland to extend levies to cheap reusable bags from January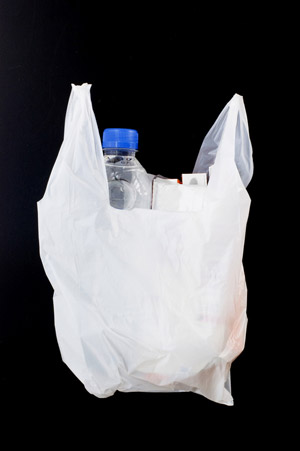 Retailers are encouraged to donate the levy to charitable causes (Photo: kai/Fotolia)
A charge of 5p on carrier bags handed out in Scotland's retail outlets came into effect on 20 October – see Plasteurope.com of
03.07.2012
. The Scottish legislation follows similar rules as those of Wales, where bag charges were implemented from October 2011, and Northern Ireland, which began charging in April 2013 – see Plasteurope.com of
22.04.2013
. England, now the only hold-out in the UK, is due to implement a carrier bag levy in 2015.
The Scottish bag charges apply not only to plastics but to all single-trip bags, including some plant-based materials. All retailers will be required to charge at least 5p but can charge more if they choose. Excluded from the fees are bags used to contain medicine or unpackaged food as well as live aquatic creatures in water and any bag used to contain a product bought "on board a ship, train, aircraft."
As in other UK countries, Scottish retailers are being encouraged to donate proceeds from the bag levies to charitable causes.
Zero Waste Scotland
, a scheme established for this purpose, has thus far signed up 160 retailers – including
Marks & Spencer's
,
The Co-operative Group
and
McDonald's
for its "Carrier Bag Commitment." This means that the shop owner agrees to donate the proceeds as well as report on how many bags they have sold and how the money has been used.
Response to the Scottish bag legislation from consumers as well as wildlife protection organisations was largely positive. Estimating that the UK's northernmost country currently consumes around 800m carrier bags annually,
Lang Banks
, director of
WWF Scotland
, commented that "in other parts of the world, charges for plastic bags have led to dramatic reductions in their use as well as positive changes in consumer behaviour." The
Marine Conservation Society
of the UK called the bag levy "a major step forward in tackling a problem that causes so much harm to marine wildlife."
Restrictions or charges on single-trip carrier bags, in particular those made of plastic, are being implemented increasingly across Europe. Under legislation passed by the European Parliament in April of this year, the use of lightweight plastic bags thinner than 50 microns will be phased out gradually by means of taxes, levies, restrictions and bans, with member states encouraged to promote the use of alternative biodegradable or compostable bags – see Plasteurope.com of
17.04.2014
.
23.10.2014 Plasteurope.com [229567-0]
Published on 23.10.2014