CHINAPLAS 2014
Sustainability as key theme at this year's plastics mega-event in Shanghai / Organisers expect almost 3,000 exhibitors / "Green Forum" co-organised by Plasteurope.com / Last call for registrations for exclusive readers' trip to China
Even as the entire country is now busy ushering in its new year, the Year of the Horse, preparations for the next "Chinaplas" mega-fair (
www.chinaplasonline.com
) continue at full speed. Building on the success of its first readers' trip to last year's event in Guangzhou (see Plasteurope.com of
12.06.2013
),
Plasteurope.com
, too, is busy organising a new visitor delegation to the world's second largest plastics fair. In response to high demand, the deadline for registration has been pushed back to 5 February (interested parties can find out more by visiting
www.pieweb.com/chinaplas
).
The key theme at the 28th fair edition, held in Shanghai from 23-26 April, is sustainability, captured under the motto "Greenovation – Solution to Sustainability". Organiser
Adsale Exhibition Services
(Hong Kong;
www.adsale.com.hk
) is putting together two key events to underscore this year's focus, and Plasteurope.com is proud to once again have a hand in both.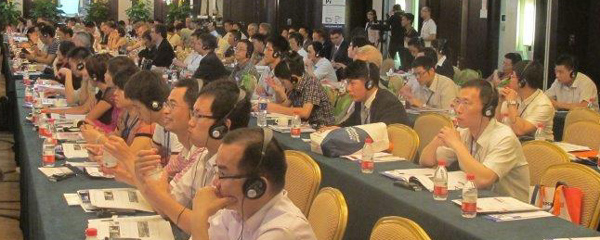 The onsite conference is widely expected to be just as successful as last year's B2B event in Guangzhou (Photo: PIE)
Green Forum: Focus on moulding, printing and recycling
The first event, the "Green Forum", is a two-day series of seminars co-organised by Adsale, Plasteurope.com and the Association of
Green Molding Solutions
(AGMS,
http://greenmolding.org/english
). Held on 24 and 25 April, the key topics discussed at the conference are "Innovative Solutions for Plastic Recycling" and "Green Molding to Halve the Cost and Double the Wealth", with a range of high-level speakers addressing issues such as green moulding, 3D printing, recycling as well as other end-of-life solutions. European speakers include
Ton Emans
, president of
Plastics Recyclers Europe
(PRE, Brussels / Belgium;
www.plasticsrecyclers.eu
), who will present on European recycling trends and developments.
The second event, dubbed "The City of Tomorrow", will feature a circular structure at the centre of the exhibition that will showcase a sustainability model covering green and alternative raw materials, energy-efficient machinery, plastics and rubber applications as well as recycling. Visitors will be able to explore the exhibit by means of interactive displays and game booths.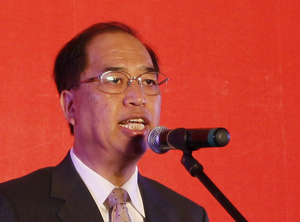 Adsale chairman Stanley Chu at last year's fair (Photo: Adsale)
Adsale expects Chinaplas 2014 to draw more than 2,900 international exhibitors, spread across an area of more than 220,000 m², and including more than 3,200 different machines.

Exhibitors include leading chemicals and raw materials suppliers like Borouge, BASF, Bayer MaterialScience, Dow, Ems-Chemie, ExxonMobil, Evonik or LG Chem as well as leading distributors such as Albis, A. Schulman or Ravago. Aside from Chinese machinery suppliers such as Haitian, Chen Hsong, Borch, Ningbo Fangli or Dalian Totani, European machinery producers will also be present, as will mould and die suppliers – illustrating the leading position of Chinaplas in the global plastics industry. Amid rising demand for exhibition space, the upcoming fair will include not just outdoor exhibition halls, but also a so-called "Exhibition Suite".
04.02.2014 Plasteurope.com [227335-0]
Published on 04.02.2014