SIMBA DICKIE
2010 ends on a positive note / French toy group Smoby posts greatest sales volume / Plans for extensive investment in own production sites / Latin American distribution network extended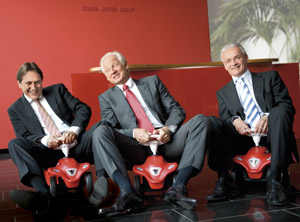 The leadership trio: Group owner and CEO Michael Sieber (middle) with COO Uwe Weiler (left) and CFO Manfred Duschl (right) (Photo: Simba Dickie Group)
Last year was a resounding success for toy manufacturer
Simba Dickie Group
(Fürth / Germany;
www.simba-dickie.com
), group CFO
Manfred Duschl
told the audience during the presentation of group results, adding that all group businesses contributed to the 14% rise in consolidated sales to EUR 570m. Simba Dickie's revenues and finances continue to be described as "good and solid"; the group does not publish a detailed overview of the various businesses. The strongest growth in revenues, Duschl said, was registered by French group member
Smoby
– where sales rose by 23%, from EUR 118m in 2009 to EUR 145 last year – as well as Simba Dickie's foreign subsidiaries, which saw revenues rise by 22% from EUR 171m (2009) to EUR 209m. Smoby's Hong Kong business saw especially remarkable growth rates.
Results were also good at Simba Dickie's newly founded UK subsidiary,
Simba Smoby Toys UK
, as well as at its Latin American distribution office, located in Chile. The good financial performance also was underlined by the boosted distribution activities in Russia, India, Poland, Ukraine, Turkey and the Middle East. All in all, foreign business accounted for 75% of total group revenues last year – in 2009 it had stood at 70%. Leading Simba Dickie export destinations in 2010 were France, Spain, Italy, the Benelux region as well as Russia.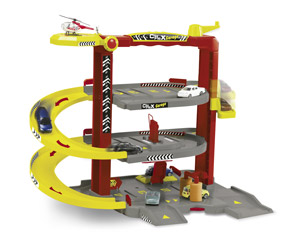 Science as child's play. The goal of Majorette's new "Eco Tech City" parking garage is to illustrate how electricity is created through movement and the use of force (Photo: Simba Dickie)
In 2010 Simba Dickie not only founded its new UK subsidiary, the group also established a distribution office in Morocco, to cover the North African market. Thanks to its acquisition of insolvent French toy manufacturer Majorette, Simba Dickie now also owns a toy production plant in Thailand, whose 550 employees manufacture "die cast" plastic toy cars and garages. Contrary to Smoby, the Majorette brand no longer operates independently, but has become part of the Dickie Toys portfolio. In France, the most important market for the "Majorette/Solido" brands, distribution is organised by Smoby.

The Smoby group has built a new, 5,000 m2 production hall at its main manufacturing site in Arinthod / France. As a result, toy manufacture – which had previously been carried out at three separate sites – will in future be bundled in Arinthod. The remaining two sites are to serve as storage or to carry out assembly works.

The toy manufacturer is optimistic in its outlook for 2011, and plans to raise total revenues by 5%, breaking the EUR 600m benchmark. To achieve this goal, Simba Dickie is not planning additional acquisitions, but hopes to do so through organisational changes, including by fully integrating and consolidating its 2010 acquisitions into the group. In addition, the toy maker plans to invest in products, R&D and manufacturing sites in Germany, France and Thailand. What's more, Simba Dickie also plans to open a new production and distribution office in Brazil – either by founding a new subsidiary or by entering into a joint venture with a Brazilian toy manufacturer. All in all, the group plans to invest some EUR 30m in new tools and machinery.
03.02.2011 Plasteurope.com [218470-0]
Published on 03.02.2011
German version of this article...