WALKI
Finnish group launches recyclable materials for packaging of frozen foods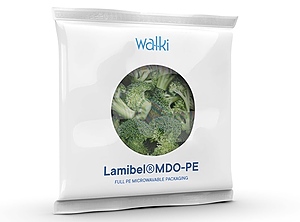 The company's Lamibel material is ideal for pillow pouches (Photo: Walki)
Walki
(Espoo, Finland;
www.walki.com
) is expanding its portfolio of recyclable materials, including printed solutions, for use in paper packaging of frozen food.
Evo Seal, the company's paper-based packaging with a dispersion coating as barrier against water vapour and grease, as well as Opti Seal, which is also paper-based and has an optimised polyethylene extrusion coating, are intended especially for pillow-pouches for frozen food.
Lamibel MDO-PE is a film-based material for pillow pouches made of reverse printed MDO-film and solvent-free laminated with low sealing LDPE. It is ideal for all types of packaging and all kinds of frozen food.
The packaging maker's Pack Tray is a board-based tray suitable for frozen ready-made meals. It is easy to fill, transport, and store, and safe to use in both microwaves and conventional ovens up to 220C for up to 60 minutes. The tray material is 100% PET free.
13.06.2022 Plasteurope.com [250399-0]
Published on 13.06.2022