WACKER
Expansion of US silicone complex / Strong growth in specialities / Investments on three continents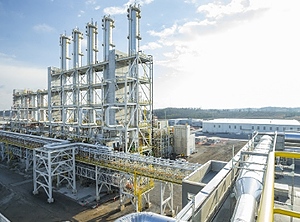 The Charleston site: new silicone production facilities are to be added (Photo: Wacker)
Germany's
Wacker Chemie
(Munich;
www.wacker.com
) has launched a feasibility study for a new US complex to produce silicone specialities at Charleston, Tennessee. Construction of the new production facilities worth altogether USD 200 mn (EUR 197 mn) is planned to take place at the site in phases over several years.
The expansion, which CEO
Christian Hartel
said is in response to increasing demand, could create more than 200 new jobs. No start-up date has been disclosed for any of the projects.
In the first phase, Wacker, which regards itself as world's second-largest silicone producer, said it will build plants for high-consistency silicone rubber and silicone sealants, used, for example, in construction applications. The plans also include facilities for intermediates.
Subsequent phases could see construction of facilities for related product groups such as silane-terminated polymers used as binders for formulating high-quality adhesives and sealants, liquid waterproofing systems and environmentally friendly wood-flooring adhesives.
Hartel said the new complex is a further step toward making Charleston a fully integrated site with closed production loops and is an important prerequisite for accelerating its growth in the world's second largest chemical market. Currently, the site focuses on super pure polysilicon for the semi-conductor and solar sectors, in addition to pyrogenic precipitated acid.
Related:
Wacker plans new logistics centre in Germany
Overall, Wacker's portfolio ranges from silicone fluids, emulsions, resins, elastomers and sealants to silanes, silane-terminated polymers and pyrogenic silica. High-performance speciality silicones are said to be showing particularly strong demand from key industries such as automotive, construction, electronics, and medical technology.
Across the board, US demand has shown above-average growth in recent years,
David Wilhoit
, president and CEO of US subsidiary
Wacker Chemical Corporation
, noted.
New investments in silicone worldwide
Wacker is also building up capacity for silicone products elsewhere. At the end of July, it announced plans to expand its portfolio of self-adhesive liquid silicone rubber with a product line that adheres specifically to polycarbonate.
The company will spotlight the new products at its booth at the K 2022 plastics and rubber exhibition, which is scheduled to take place from 19 to 26 October in Düsseldorf, Germany (
www.k-online.de
).
Its newly developed and patented self-adhesive technology does not contain any bisphenol A structures, Wacker stressed, adding that the elimination of this controversial substance class will increase occupational safety and contribute to consumer protection.
All of the rubber grades are touted as being easily processed by two-component injection moulding, with none containing any substances that could result in solid deposits forming in the mould during processing.
In early June, Wacker said it planned to add capacity for silicone rubber in Germany up to the end of 2022 (see Plasteurope.com of
01.06.2022
). More output is expected to be available to US customers by the end of 2023, and the company is also eyeing expansion of silicone rubber production in China.
Expansion is also on the agenda for high consistency rubber (HCR), at Panagar, India, with additional capacity to come onstream at the beginning of next year in the Czech Republic and Japan.
03.08.2022 Plasteurope.com [250866-0]
Published on 03.08.2022
German version of this article...