VICTREX
Two PAEK grades for 3D printing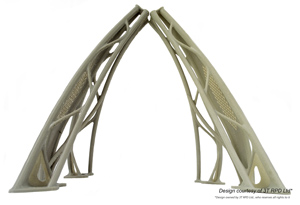 3D-printed PAEK bracket – filament fusion (left), laser sintering (right) (Photo: Victrex)
High-performance polymers manufacturer
Victrex
(Thornton Cleveleys / UK;
www.victrex.com
) will next month release the technical results of studies into two new materials it is developing for use in additive manufacturing.
The first material is a high-strength product for laser sintering, which Victrex claims attains lower refresh rates, resulting in improved recycling for unsintered powder. The second is a filament, which features better Z-strength than existing polyaryletherketone (PAEK) materials and has better printability for filament fusion (FF).
Victrex says that many PAEK materials being sold today were designed for conventional manufacturing methods such as machining and injection moulding, and consequently have some features that are not ideal for the additive manufacturing process. A first generation of PAEK material for laser sintering can only be recycled in low volumes, requiring a nearly complete refresh of the printing bed with new powder, while polyetheretherketone (PEEK) filaments available for FF have poor interlayer bonding, leading to a loss in Z-strength. The company says the new polymer grades it has developed have shown "encouragingly low refresh rates with similar mechanical properties in laser sintering and good mechanical properties and printability in filament fusion."
John Grasmeder
, Victrex's chief scientist, says, "We believe it will be possible to re-use all of the non-sintered powder that is recovered after a build run. This will result in a significant reduction in material costs compared to current PAEK materials where up to 40% of the polymer is wasted and cannot be recycled."
10.08.2018 Plasteurope.com [240329-0]
Published on 10.08.2018
German version of this article...