US BIOPLASTICS
Demand expected to rise 30% to 25m t by 2016 / Freedonia sees USD 680m value
Demand for bioplastics in the US will climb by 20% annually to around 250,000 t/y, valued at USD 680m in 2016, the market research group Freedonia says in its recent study "Bioplastics". Currently only a "small niche within the overall plastics industry", technical innovations that enhance the biomaterials' properties will drive growth, the researchers say.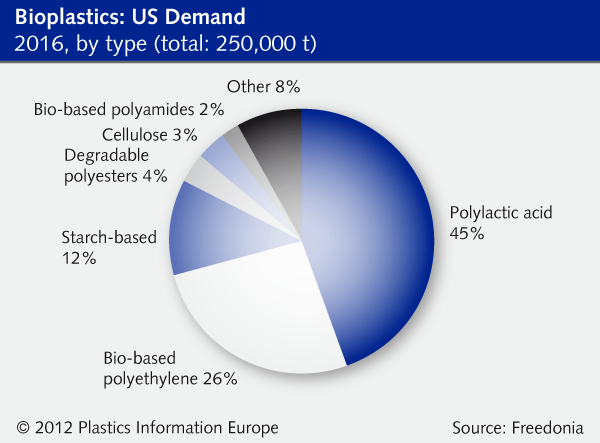 While biodegradables now account for the lion's share of bioplastics volume, the emergence of non-biodegradable resins will "dramatically alter the market landscape," Freedonia predicts. It sees growth being propelled by bio-based PE, with an expected upturn of 57.4%, followed by degradable polyesters (PET) with 23.4%. In particular PET is expected to offer significant potential longer-term, especially as large beverage manufacturers are investing in its development. Bio-based polyamide is also seen as an important up and comer, with projected growth rates of 8.4%.

Despite the contamination issues presented by biodegradables in landfills – which in the US are more prevalent than in much of Europe – PLA, with growth rates of more than 15%, is thought likely to remain the most extensively used bioresin throughout the forecast period. Freedonia says advances here will be driven by a widening composting network and converters' increased familiarity with the products.

Starch-based biopolymers are seen as growing by 7.6% up to 2016, with an increase of 3.5% forecast for cellulose. Although Freedonia does not attempt to quantify growth rates for PVC, it also sees a future for this polymer, which is much-criticised for its allegedly negative environmental effects.
16.07.2012 Plasteurope.com [222793-0]
Published on 16.07.2012
German version of this article...