UPDATE - COFEL
Mattress manufacturer closes former Recticel plant in France / Shareholder Steinhoff International under heavy pressure
Info: Just before Christmas, Plasteurope.com spoke to a Cofel spokesperson who explained that the Mazeyrat shut-down had nothing to do with current cost-cutting measures being taken by the Steinhoff group. In addition, many of the employees affected will be offered continued employment at Cofel.
21.12.2018 15:50:05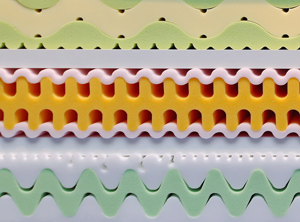 Polyurethane foam for mattresses (Photo: Panthermedia/Baloncici)
82 employees of French mattress and bedding manufacturer
Cofel
(Paris / France;
www.cofel.fr
) might not have such a happy Christmas. The company has decided to shut down production of polyurethane foam mattresses in Mazeyrat d'Allier, around 100 km to the southwest of Lyon / France, at the start of 2019. A compensation plan is in the works, and Cofel is offering 80% of employees affected a position at one of its other facilities in France, a company spokesperson told
Plasteurope.com
just before Christmas.
Cofel has stated that the decision to shut down the Mazeyrat facility is not connected to other cost-cutting measures currently being taken by parent company
Steinhoff International
(Stellenbosch / South Africa;
www.steinhoffinternational.com
) in an effort to enter calmer waters. Steinhoff, which is valued at approximately EUR 20 bn, is likely Europe's second largest furniture retailer after
Ikea
and is known in Germany through the
Poco
furniture stores. The company has recently been in the news due to falsification of balance sheets and the bankruptcy of American retailer
Mattress Firm
, which is also part of the group.
Like Mattress Firm, which evidently parted with several plants during the restructuring under Chapter 11 of US bankruptcy law, Cofel management describes the affected plant as unprofitable, according to French media reports. The
CGT
trade union vehemently contradicts this. Nevertheless, it has been decided that the Mazeyrat production will be distributed among the other four Cofel plants in France.
The neighbouring
Recticel
(Brussels / Belgium;
www.recticel.com
) plant supplies the group with polyurethane foam slabs and blanks. This will not be affected by the measure, says Cofel. On the other hand, the Belgian PU processor was unwilling to comment on the process after an enquiry by
Plasteurope.com
. Recticel had initially sold its 50% stake in Cofel to leading Spanish bedding manufacturer and JV partner
Pikolin
(Zaragoza / Spain;
www.grupopikolin.com
) in 2009 – see Plasteurope.com of
18.06.2009
. Pikolin, which has sales of EUR 440m and is well-known for its "Swissflex", "Lattoflex" and "Dunlopillo" brands, then sold half its interest in Cofel to Steinhoff in January 2017.
On the French mattress market, Cofel has a share of around one third with its "Epéda", "Bultex" and "Merino" brands. The company produces around 1.2m mattresses a year and has a workforce of about 1,000. It most recently posted sales of approximately EUR 200m.
20.12.2018 Plasteurope.com [241287-1]
Published on 20.12.2018
German version of this article...