UNILOY MILACRON
New blow moulding machine "BW F4" offers minimum footprint / Simplified mould changing
The "BW F4" shuttle blow moulding machine from
Uniloy Milacron Germany GmbH
(D-14979 Grossbeeren;
www.uniloy.de
) can be configured for single or double stations, each allowing one-, two-, three- or four-parison moulding of bottles with capacities from 0.2 to 1.5 l.
The machine has a footprint of only 2,700 mm wide x 2,700 mm long x 4,000 mm high and, says its manufacturer, delivers higher output and changeover flexibility while employing existing moulds and blowpins, even allowing them to be switched back and forth with existing machines. The double station model has a width of 3,200 mm while other dimensions remain the same, providing double production capability with an increase of only 27% in floor space.
The "BW F4" is the smallest unit in the Uniloy F-type shuttle machine range and offers tie-barless accessibility, in-machine trimming and labelling and closed loop operation. Its size and versatility make the unit suitable for both prototyping and challenging production applications.
The "BW F4" accepts moulds up to 315 mm long and 270 mm wide while providing 280 mm horizontal shuttle stroke and 150 mm maximum daylight opening. It has been designed to support flexible, shorter-run blow moulding operations, and the absence of tie-bars simplifies mould changeover by allowing tools to be directly loaded into the machine. In place of tie-bars, the "BW F4" has been engineered with a horizontal shuttle system running on precision guide rails utilising a rack and pinion synchroniser.
Doors on three sides allow mould installation from the side or front. Door cut-outs enable die centring and blowpin adjustment while the machine is running for fast set-up and adjustment without interrupting production. Centre-fed die heads allow for quick changes in colour with reduced downtime and resin loss. The die heads offer repeatable multi-parison performance with superior radial wall thickness control to minimise bottle weights and reduce material usage.
The BW design includes a controller with colour touch screen operation, Windows graphic displays, bus system and Ethernet connectivity. Operator screens are available that closely resemble controls on previous models, to avoid potential learning problems.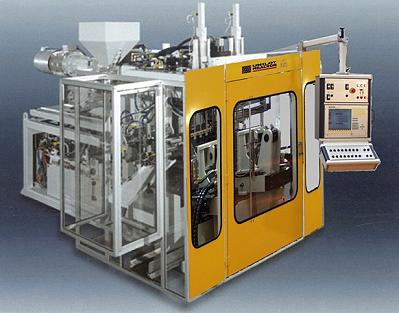 "BW F4" blow moulding machine of Uniloy Milacron Germany (Photo: Uniloy)
16.09.2004 Plasteurope.com [200403]
Published on 16.09.2004