TRUECIRCLE
Launch of online trading platform for recyclables / AI-based system scans material at sorting plants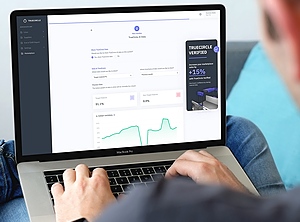 The online platform for trading recyclable materials (Photo: TrueCircle)
TrucCircle
(London;
www.truecircle.ai
) has announced the start of TrueCircle Trade, an online platform for recyclables trading said to be backed by computer vision AI data.
CEO
Rishi Stocker
told
Plasteurope.com
that the platform focuses on transactions between sorting plants in Europe and reprocessing facilities in Europe and Asia. Most of the material currently traded is paper at 4.8 mn t/y, followed by post-consumer plastics at nearly 2 mn t/y and metal with 685,000 t/y. Key markets in Europe are the UK, Ireland, Germany, France, and Greece, Stocker said, adding that the company's AI vision systems scan "100% of material that is produced by a sorting plant."
As the CEO noted, "Lack of trust in material quality has always stood in the way of new trading relationships. We're delighted to be solving that problem by putting our TrueCircle AI-powered quality data at the heart of transactions."
The company said 150 verified buyers and sellers are already using the platform, which features real-time auction functionality, automated tracking of all relevant licence and compliance documentation, direct communication between buyers and sellers via a chat system, and credit ratings on registered buyers whenever they bid. TrueCircle said it can also arrange transportation.
19.09.2022 Plasteurope.com [251134-0]
Published on 19.09.2022