TRADE FAIRS
"Fakuma" to take place in October with caution / Visitor numbers presumably much lower / What does "without active participation" mean? / Video technology will monitor social distancing rules at "Formnext"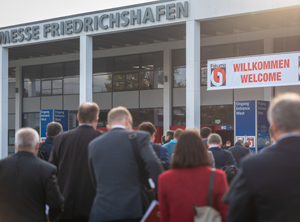 Fakuma's organiser hoped for 2,000 exhibitors before the Covid-19 crisis, but forecasts on visitor numbers are now difficult to make (Photo: Schall)
Good news for trade show organiser
P.E. Schall
(Frickenhausen / Germany;
www.schall-messen.de
) and its "Fakuma" (
www.fakuma-messe.de
) trade fair for plastics processing, set to take place from 13-17 October 2020 in Friedrichshafen / Germany. The state government of Baden-Württemberg has announced changes in its Covid-19 regulations, which mean that larger trade shows will be permitted again from 1 September 2020, provided the infection situation remains relaxed. A special regulation to this effect is currently being drawn up.
The news is not entirely surprising. "Based on earlier resolutions by the authorities and
Messe Friedrichshafen
, work has been going on for some time now on drawing up a concept that takes into account all the requirements with regard to hygiene, social distancing and safety aspects," says Schall. The implementation concept is to be submitted at the beginning of July for examination and approval.
For one of the largest exhibitors at Fakuma, the news is no longer relevant. In the week before the announcement, injection moulding machinery manufacturer
Wittmann
(Vienna / Austria;
www.wittmann-group.com
) called off its "active participation" at Fakuma, referring to the coronavirus-related health risks (see Plasteurope.com of
22.06.2020
). A company spokesperson told
Plasteurope.com
, "We do not want to lose our stand at the exhibition and will therefore be present with a minimal team." However, visitors to the stand at the event will have to do without machinery exhibits as well as discussions with sales and marketing experts. Instead, they can expect to find a more or less empty stand with graphics, logos and plenty of space.
Internationally, there was a similar occurrence some years ago. Before the financial crisis of 2008/09, another machinery manufacturer,
Milacron
(Cincinnati, Ohio / USA;
www.milacron.com
), was "present" at the "NPE" in Chicago without any exhibits. It was a complete flop, causing considerable damage to the company's image, as industry insiders recall. Wittmann will not be sending any of its staff to the show as visitors either. This is not likely to go down very well with the organisers, particularly as CEO
Michael Wittmann
is a member of the Fakuma exhibitor committee.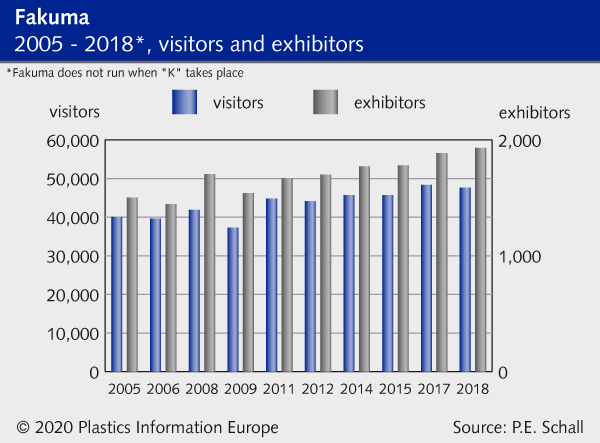 Wittmann's decision has so far not had any knock-on effect. Injection moulding machinery builder
Engel
(Schwertberg / Austria;
www.engelglobal.com
) is watching the situation closely and will "decide soon on how best to present itself at the Fakuma," said a company spokesperson.
Christoph Schumacher
, head of corporate communications at competitor
Arburg
(Loßburg / Germany;
www.arburg.com
), was a little more specific: "As a kind of co-founder and exhibitor from the very beginning, we will fully support Fakuma." Although he respects the clear stance of the company's competitor, he is hopeful "that the general situation will enable Fakuma to take place in the autumn with caution and with the necessary – unfortunately as yet unknown – hygiene and safety concept." He would have hoped for more positive action from the state of Baden-Württemberg and earlier communication with regard to trade fairs and exhibitions, including decisions on the basic conditions. "Unfortunately, our state is – unusually – not prepared to assume a leading role in this respect, and other federal states are much further ahead."
Wider corridors, communication lanes and full registration
This is confirmed by the example of the "Formnext" 3D printing trade fair in Frankfurt / Germany. Back at the beginning of June, organiser
Mesago Messe Frankfurt
(Stuttgart / Germany;
www.mesago.de
) submitted a health and hygiene concept on how the event can take place from 10-13 November 2020 despite the coronavirus pandemic. For visitors, it is planned to have full registration and tickets that are valid only on certain days. Also compulsory is a self-declaration of each visitor's present state of health.
When planning the exhibition halls and stands, Formnext will literally be treading new ground. The gangways between the stands will be widened from 3 m to 6 m and additionally flanked by a 1 m-wide communication lane on each side. In addition, video technology and trained personnel in the hall will be deployed to monitor whether the social distancing rules are being adhered to.
For the time being,
Carl Hanser Verlag
(Munich / Germany;
www.hanser.de
), organiser of the plastics event "Kunststofftechnik Nord" (Kuteno) from 1-3 September 2020 in Rheda-Wiedenbrück / Germany, is holding back with more specific information. Under the motto "smart & safe", increased hygiene and safety standards will ensure the safety of all the participants at the show, according to a statement from the company.
Irrespective of the efforts made by organisers and exhibitors, there are aspects that are still open – how will potential visitors to a trade fair handle the risk of becoming infected with the coronavirus, and will employers allow their staff to visit trade shows?
Michael Weigelt
, managing director of the German association of technical plastic products
TecPart
(Frankfurt;
www.tecpart.de
), expects only around half the number of Fakuma visitors as in 2018 (47,650). However, he is of the opinion that this would mean concrete purchasing intentions, especially for technical components.
Fakuma promises visitors an overview of all plastics technologies – from injection moulding and extrusion to thermoforming and 3D printing. In addition to processes, technologies and tools connected with plastics machining and processing, the topics of digitalisation, resource conservation and circular economy will be covered. The
KI Group
editorial team will keep you up to date with the latest information at Fakuma with "K-PROFI daily".
PIE keeps an updated list of event changes at
www.pieweb.com/corona-events-listing
.
30.06.2020 Plasteurope.com [245387-0]
Published on 30.06.2020
German version of this article...