TRADE FAIRS
"Plastprintpack Ethiopia 2019" to be held in May / Domestic consumption of plastics rising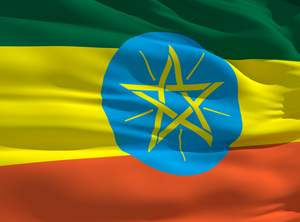 Ethiopia is East and Central Africa's second largest importer of raw materials for plastics (Photo: Panthermedia/fckncg)
The next edition of "Plastprintpack Ethiopia" will take place from 9-11 May 2019 in Addis Ababa / Ethiopia. It is co-organised by
fairtrade Messe
(Heidelberg / Germany;
www.fairtrade-messe.de
) and
Prana Events
(Addis Ababa;
www.pranaevents.net
).
Plastprintpack Ethiopia 2018 witnessed 58 exhibitors from 18 countries, with attendance by 2,673 visitors. At the opening of the 2018 event, Ethiopia's minister of industry
Mebrahtu Meles
said, "Ethiopia is demonstrating continuous and high GDP growth for over 14 years now. As a result, the country became one of the world's fastest growing economies and an impressive investment destination in Africa." The country's plastics industry is also growing.
Raw material imports for plastics forecast to rise
According to the European plastics machinery manufacturers organisation
Euromap
(Frankfurt / Germany;
www.euromap.org
), there is significant growth seen in Ethiopia. The country imports 100% of raw materials mainly from the Middle East, Europe and Asia, and the Ethiopian market offers potential for exporters of plastics in primary forms. From 2007 to 2015, for example, imports of plastic raw materials rose by 19.4% annually, from 43,000 t to 178,000 t. This makes Ethiopia the second largest importer of plastics in primary forms in East and Central Africa, ranking behind Nigeria, the largest importer of plastics in this region.
Per capita consumption of plastics in Ethiopia has grown 13.7% annually over the past ten years, from 0.6 kg in 2007 to 2.4 kg in 2017 and is estimated to reach 3.2 kg in 2020 – by comparison, average global consumption is around 32 kg per capita. Domestic plastics consumption has grown 17.5% each year over the past ten years, from 44,000 t in 2007 to 220,000 t in 2017 and is forecast to be 308,000 t in 2020.
Ethiopia is also East and Central Africa's largest importer of plastics machinery. Between 2012 and 2017 the country's imports of plastics machinery rose 22% each year, from EUR 12m in 2012 to 35m in 2017.
08.02.2019 Plasteurope.com [240762-0]
Published on 08.02.2019