TOTALENERGIES CORBION
Development of biobased BOPLA solutions with Chinese films specialist / rPLA cups with Spanish packaging group Lantero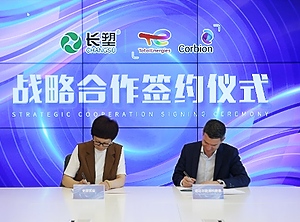 Mou Qingying, vice-president Changsu Industrial, and TotalEnergies Corbion CEO Thomas Philipon sign MoU (Photo: TotalEnergies Corbion)
PLA specialist
TotalEnergies Corbion
(Gorinchem, the Netherlands;
www.totalenergies-corbion.com
) and Chinese speciality films manufacturer
Xiamen Changsu Industrial
(Xiamen, Fujian;
www.changsufilm.com
) have announced a strategic cooperation agreement for development, research, and promotion of sustainable PLA solutions using biaxially oriented polylactic acid (BOPLA).
BOPLA is made with biobased PLA using biaxial stretching technology, making Changsu Industrial's BiONLY range of product biodegradable and capable of reducing the carbon footprint of packaging materials, the Chinese company claims. According to TotalEnergies Corbion, its Luminy PLA portfolio, comprised of biobased and biodegradable polymer, is made from "renewable resources".
Related:
TotalEnergies Corbion, Danimer develop biopolymer materials for compostable coffee pods
The collaboration plays into the Asian country's Made in China 2025 plan, which was initiated in China in 2015 to reduce the country's dependence on foreign technology. A key development of the partnership is the development of BOPLA-based adhesive tapes made of Changsu Industrial's BiONLY PLA.
Totalenergies Corbion operates a 75,000 t/y PLA production facility in Rayong, Thailand and has recently announced plans to build a second plant in Grandpuits, France.
Acceleration of PLA/PHA solutions in China
TotalEnergies Corbion also recently signed a Memorandum of Understanding with Chinese synthetic biology company
Bluepha
(Yangcheng, Jiangsu;
www.bluepha.bio
) to accelerate the market adoption of PLA/PHA-based solutions in China. The collaboration seeks to advance the development of high-performance biopolymer solutions that combine Bluepha's polyhydroxyalkanoates (PHA) with TotalEnergies Corbion's Luminy PLA technology, the company said.
Thomas Philipon
, CEO of TotalEnergies Corbion said, "By combining the complementary properties of these materials, we will significantly expand the application possibilities for brand owners seeking fully biobased material solutions."
Biobased cups from rPLA
TotalEnergies Corbion, along with two business units of Spanish packaging group
Lantero
(Madrid;
www.grupolantero.com
), has also launched a biobased cup made with recycled PLA. These cups are designed for the Form-Fill-Feal (FFS) market. The cup is available in both white and high transparency and helps brand owners and consumers reach their recyclable and sustainable targets, the company claims.
Related:
PLA compostability tool to reach climate-neutrality targets
Rigid packaging manufacturer
Coexpan
(Madrid;
www.coexpan.com
) and the
Innotech Center for Technological Innovation
(
www.coexpan-emsur.com/innotech
), both units of Grupo Lantero, worked with TotalEnergies Corbion to complete the testing and achieve validation at Innotech for line speeds and output using Form-Fill-Seal (FFS) technology.
TotalEnergies Corbion says its Luminy rPLA is a biobased polymer produced from sugarcane. The carbon captured from the atmosphere by the sugarcane is kept in the cycle with advanced recycling. Luminy rPLA has the same properties as virgin PLA and is approved for food contact in the EU, USA, and China.
01.06.2023 Plasteurope.com [252839-0]
Published on 01.06.2023