THERMOPLASTIC ELASTOMERS
Global growth of more than 5% annually / Demand to reach 5.8m t in 2017 / Automotive market will account for biggest share / Asia Pacific to remain largest market / Freedonia report
Global demand for TPEs is forecast to rise by more than 5% annually up to 2017 when it will reach 5.8m t, according to a recently published report, "World thermoplastic elastomers", from US market researcher
Freedonia
(Cleveland, Ohio;
www.freedonia.com
). Growth will be driven by innovation in product development, allowing the materials to continue to displace traditional elastomers and thermoplastics in a range of applications, the researcher said.
Demand will also benefit from the ongoing drive to reduce motor vehicle weight and an improved economic outlook in North America and western Europe, while advances in emerging countries will benefit from increased adoption of TPEs in place of competing materials.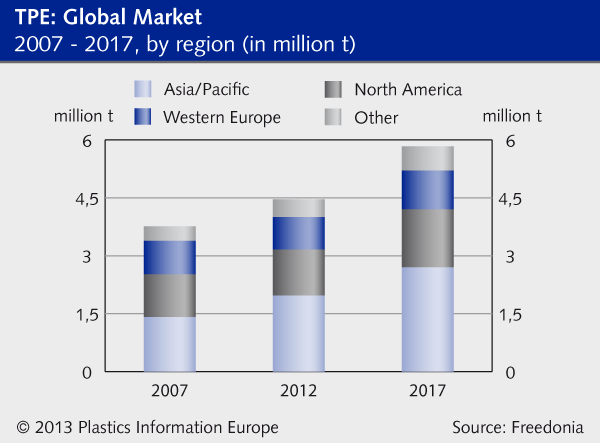 Styrenic block copolymers (SBCs) will remain the leading TPE product type up to 2017. However, SBC demand will increase at below-average rates compared to the overall TPE market as there is already saturation in many large-volume applications. Fastest growth is expected for polyolefin elastomers (POEs), a relatively new TPE product class that is gaining acceptance as a performance additive for plastics and packaging adhesives.

The automobile market accounts for the largest share of the world TPE market, with one-third of total demand in 2012. Gains will be driven by improvements in the TPE-intensive North American and West European automotive industries as well as increased TPE use in emerging markets, although demand will be limited by continued declines in Japanese vehicle production, Freedonia said.

Asia/Pacific will remain the largest market for TPEs, rising at an above-average rate, to account for nearly half of world demand by 2017. China, the world's largest consumer of TPEs in volume terms, will continue to see more than 8% annual growth in demand. Expansion in India and South-east Asia will also drive demand, although growth in the Japanese market is forecast to remain slow.

Other geographic areas predicted to see above-average advances in demand include Africa and the Middle East, which currently has the world's lowest TPE consumption levels per capita. TPE demand growth in North America and western Europe will see substantial improvement compared to the recession-hit 2007-2012 period, the US researcher concluded.
04.09.2013 Plasteurope.com [226237-0]
Published on 04.09.2013
German version of this article...