THERMOPLASTIC COMPOUNDS
US demand to reach over 5m t by 2017 / Rebounding construction industry offers best prospects / PVC fastest growing resin / Freedonia study
US demand for custom compounded thermoplastics is forecast to rise by 5% per year to nearly 5.2m t in 2017, valued at USD 14.3 bn (resin content only), according to the latest study published by US market researcher
Freedonia
(Cleveland, Ohio;
www.freedonia.com
). In 2012, the compound consumption in the US was around 4m t, an annual decline of 2.1% since 20017. Advances will be fuelled by continuing efforts among custom compounders to develop new and innovative products that will broaden the range of applications for thermoplastics, making them more competitive with alternative materials. Construction will offer the best prospects as it was beginning to emerge from its post-recession trough in 2012, leaving significant room for future expansion, the study – titled "Custom Thermoplastic Compounding" – states. PVC will be the largest, fastest growing resin because of its dominance in the construction market where it is widely used for pipes, fittings and siding.
Freedonia says plastic pipe's competitive cost structure relative to rival materials as well as its light weight, corrosion resistance, and long service life will support strong gains in the pipe and fittings market. Rising construction activity will also create substantial opportunities for PE in areas such as pipe, decking and vapour barriers.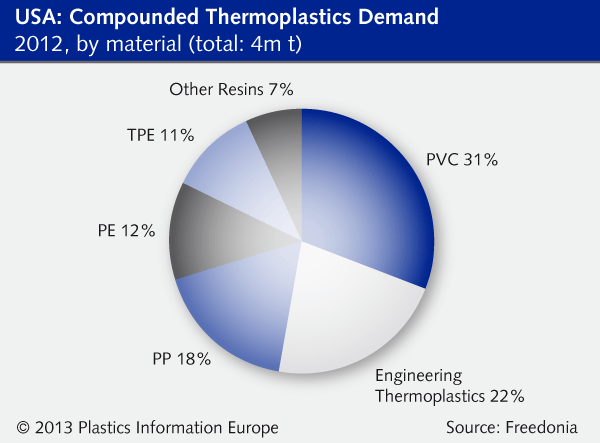 Thermoplastic compounds are also used in external applications such as decking, fencing, siding and windows because of their many advantages over traditional wood products. However, Freedonia says because pipe and siding processors often carry out compounding in-house, opportunities for custom compounders are restricted.

Demand for thermoplastics in automotive parts will be driven by ongoing efforts to comply with increasingly stringent fuel economy standards. Healthy gains are anticipated for PP, engineering thermoplastics and thermoplastic elastomers where they help to reduce vehicle weight and cut costs while providing enhanced aesthetics and innovative design features. Long glass fibre-reinforced PP (LFT PP) is making significant inroads as an alternative to steel in semi-structural applications as well as expanding into under-the-hood and aesthetic uses. Compounded plastics will also benefit from their durability, design flexibility and relatively low cost, according to Freedonia.
01.03.2013 Plasteurope.com [224700-0]
Published on 01.03.2013