STORA ENSO
Partnership with Tetra Pak in Poland / Increased capacity for reclaiming drinks cartons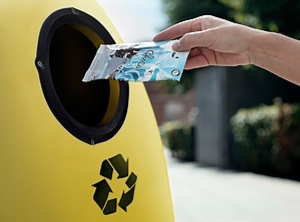 TetraPak, Stora Enso und Plastgram invest in recycling (Photo: Tetra Pak)
Following a feasibility study, renewables group
Stora Enso
(Helsinki / Finland;
www.storaenso.com
) and packaging giant
Tetra Pak
(Lausanne / Switzerland;
www.tetrapak.com
) are partnering to triple recycling capacity of drinks cartons in Poland.
As part of the partnership, Stora Enso plans to invest EUR 17m to install a large-scale carbon repulping line at its Ostrolęka plant in Poland. The unit will triple the company's annual recycling capacity for used drinks cartons in Poland from 25,000 t to 75,000 t. Stora Enso said the expansion will allow for the reclamation of the entire volume of drinks cartons sold in Poland and those from neighbouring countries such as Hungary, Slovakia and the Czech Republic.
Tetra Pak and
Plastigram Industries
(Prague / Czech Republic;
www.plastigram.eu
) also plan to invest a total of EUR 12.1m to build another line, which will recover and separately recycle the polymers and aluminium contained in the cartons. Both lines are scheduled to go into operation at the beginning of 2023.
Possibility to increase capacity again
The separated components will be used as raw materials for various applications. The recycled fibres will be integrated into Stora Enso's recycled board, while the polymers and aluminium will form a variety of products, such as pellets and foils.

Charles Brand, president of Tetra Pak Europe and Central Asia, said, "We are seeking opportunities across the entire recycling value chain to improve how cartons get recycled and to develop solutions that effectively recycle all packaging components, including polymers and aluminium. Collaborative action is key to realise our ultimate ambition – a world where all carton packages are collected, recycled and never become litter."

Describing the partnership as "another important milestone towards the fully circular future", Hannu Kasurinen, executive vice-president of Stora Enso's packaging materials division, added that as EU collection systems continue to evolve, the project "holds potential to increase capacity for future excess volumes".
04.08.2021 Plasteurope.com [248180-0]
Published on 04.08.2021
German version of this article...