SOLVAY
Most of Belgian group's manufacturing plants remain open despite coronavirus outbreak / Donation of materials to fight disease
Solvay
(Brussels / Belgium;
www.solvay.com
) said most of its production facilities across the globe were still working as normal, despite dozens of countries remaining under strict lockdown due to the coronavirus pandemic. The chemicals giant did not reveal which of its near-160 manufacturing facilities worldwide had been closed following the virus outbreak, which is claiming thousands of lives daily in Europe, the US and beyond. Instead it said that most of its plants would remain open, "albeit operating under increased health and safety standards aligned with government measures."
Manufacturing activity in countries around the world has effectively collapsed in some sectors as workers follow orders to stay at home unless their jobs are essential. In a statement Solvay said the vast majority of its products were considered vital during the crisis. "Many of our day-to-day products, such as those used in food, hygiene or healthcare applications, are seeing increased demand as those sectors face new challenges from the spread of the virus," it added.
Partnership with Boeing on face shields
Solvay, which earlier this month announced it was slashing its capital expenditure in 2020 by more than EUR 250m in response to the virus, is also ramping up production of healthcare equipment to help healthcare workers tackle the pandemic. It said several of its plants had been moved to an emergency footing, providing frontline health workers with supplies including hydrogen peroxide, hand sanitiser and protection equipment such as face shields.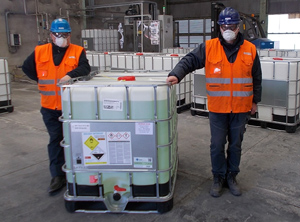 Solvay has been partnering with companies and other organisations to donate products such as hand sanitiser and face shields (Photo: Solvay)
The Belgian company said it had started to supply high-performance, medical-grade transparent film to Boeing to help it manufacture face shields. Solvay's Ajedium films business is supplying thermoplastic film to the aircraft manufacturer, which is producing face shields for medical workers in the US. The film will be made using Solvay's medical-grade "Radel" PPSU or "Udel" PSU, two transparent speciality polymers used for medical devices.

The chemicals giant also said it had donated hydrogen peroxide to more than 200 hospitals, pharmacies and companies across Belgium, a move which will help manufacture 150,000 litres of hand sanitiser. It added that senior management personnel would be donating 15% of their annual salary for 2020 to a special fund created to support those of its 24,000-plus employees and their dependents who have been hit by Covid-19.


15.04.2020 Plasteurope.com [244911-0]
Published on 15.04.2020