SIPA
Lightweight compressed gas cylinders have plastic liners / PET provides high oxygen barrier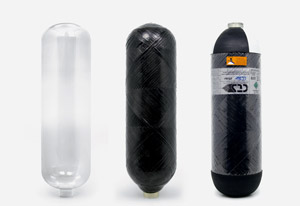 Lightweight compressed gas cylinders with a PET lining (Photo: Sipa)
Italian bottling company
Sipa
(Vittorio Veneto;
www.sipa.it
) has collaborated with pressure vessel specialist
Composite Technical Systems
(CTS, Chiopris-Viscone, Udine / Italy;
www.ctscyl.com
) on the development of a range of ultralight high-performance compressed gas cylinders.
Type IV pressure cylinders comprise a plastics liner inside a protective skin made from a continuous carbon fibre-reinforced plastic composite. They differ from Type I, II and III pressure cylinders, which are made partly or completely of metal and weigh significantly more. The new cylinders have a liner that was originally blow moulded in HDPE. However, CTS had identified PET as the ideal material, as it is lighter and gives the liner a barrier to oxygen up to as much as 100 times higher than HDPE.
SIPA's engineers worked with the CTS team to create a PET liner for the bottles and the two companies cooperated on container development, prototyping, testing and production. Manufacture is now underway on a range of cylinders, with volumes ranging from two to nine litres. The smallest weighs 0.9 kg, and the largest just 4.0 kg – around 30% lighter than a cylinder with an aluminium liner, and five times lighter than steel. They can all withstand a service pressure of 300 bar.
Initial target applications for the cylinders include oxygen breathing tanks for use by fire fighters, scuba diving kits and automobile fuel tanks.
18.11.2014 Plasteurope.com [229769-0]
Published on 18.11.2014