SINGLE-USE PLASTICS
Will the coronavirus pandemic turn the tide back to disposables? / US moves away from plastic bans / Industry will face "major challenges" in the aftermath
An opinion often heard about the ongoing coronavirus crisis is that when it's over, nothing will be the same as before. Depending on the observer's perspective, this could be positive or negative. In any case, the knock-on effects of the pandemic on the plastics sector could be enormous, if not earthshaking. After years of discussion, debates and compromises, governments and industry stakeholders have begun making strides toward tackling the problem of plastics waste and creating a circular economy. Cities, states or countries have introduced fees or banned plastic carrier bags and built up a collection infrastructure, while companies have retooled for more sustainable production or developed new technology, only to see the move away from single-use plastics (SUPs) potentially upsided due to enhanced concerns now about hygiene.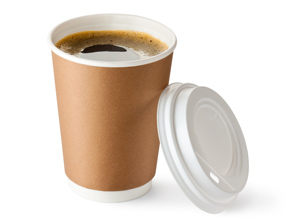 With Starbucks banning reusable mugs in its stores due to the coronavirus, the question arises of what effect the pandemic will have in combatting SUPs (Photo: PantherMedia/fotofermer)
As Bloomberg recently noted, it took only a week after the first reported US case of Covid-19 with no overseas connection for US coffee retailer
Starbucks
to reverse a much-touted earlier move away from SUP and instead ban customers from bringing reusable mugs to its stores. Will others follow suit? In the here and now, few would venture a guess as to what the eventual impact of the virus outbreak will be and how many countries and companies will rethink their approach to plastics, possibly even reverting to the throwaway culture that had begun to fall out of favour.
Until the novel coronavirus started spreading globally, 2020 looked to be a year in which curbs on disposable plastics would firmly take effect. Many drinks bottlers or retailers such as
Coca-Cola
or
Nestlé
had set targets to reduce their plastics consumption by embracing recycled PET. From 1 January, France had prohibited SUP plates, cups and cutlery – see Plasteurope.com of
10.03.2020
– while the UK, which is also enacting restrictions on plastic straws and stirrers starting in April, introduced a tax on plastic packaging containing less than 30% recycled material – see Plasteurope.com of
13.03.2020
. Also at the beginning of this year, New York City joined a number of other cities around the US and the world in banning the distribution of plastic carrier bags at retailers – see Plasteurope.com of
12.04.2019
.
Due to the virus, some or all of these bans may end up on the rubbish heap of history, playing havoc not only with planned or already implemented legislation but also requiring a much different calculation of waste streams and the volume of plastics waste that would have to be dealt with in future. Some environmental NGOs, however, already fear the trend away from SUP could be threatened. As the virus made its way across the US,
Judith Enck
, a former regional administrator for the US
Environmental Protection Agency
(Washington, D.C.;
www.epa.gov
) and the founder of the grassroots "Beyond Plastics" project, expressed doubt that returning to disposable cups would make anyone safer from infection. "As currency is a notorious germ-carrier, will Starbucks now stop accepting cash?" Enck asked rhetorically. In fact, some European retailers now have signs asking customers to pay with plastic.
Plastics Industry Association notes the life-saving abilities of polymers
With concerns about food hygiene growing, plastic food packaging could see somewhat of a renaissance, some predict. A report just released by
BloombergNEF
found that demand for plastic packaging could increase at least short-term as its research showed spikes in demand for plastics in face masks and for the thin film used in plastic wrap. This dovetails with a request issued by the US
Plastics Industry Association
(Plastics, Washington, D.C.;
www.plasticsindustry.org
) for all local, state and federal governments to define producers of plastic resins and plastic product manufacturers as "essential" so they can keep working when "Shelter in Place" orders are issued.
"With more and more businesses being ordered to close during the pandemic, it is critical that healthcare workers have access to plastic products," the association's CEO,
Tony Radoszewski
, asserted, remarking that "single-use plastics can literally be the difference between life and death." Radoszewski noted that most medical supplies such as IV bags and ventilator machines have components made of SUPs as do hospital gowns, gloves and masks.
But even if the current crisis could help to sustain the use of disposable plastics in the short term, the energy think-tank owned by erstwhile US presidential contender
Michael Bloomberg
also predicted that any spike in demand would likely be temporary. "In the long term," it said, "we do not expect this increased demand to have a significant impact on either plastic demand or circular economy goals."
Results of the
British Plastics Federation
's (BPF, London / UK;
www.bpf.co.uk
) "Survey on the Effects of Coronavirus on the UK plastics industry" – see Plasteurope.com of
25.03.2020
– suggests that the Bloomberg prediction could be on the nose. An overwhelming 79% of the 127 survey respondents said they expected sales revenue to fall during the next six months, while 98% were concerned over Covid-19's impact on their business. BPF director general
Philip Law
said plastics industry players are expecting "major challenges in the weeks and months ahead."
Impressed more by contamination fears than ecological perspectives, US jurisdictions are leading the charge back to SUPs, picking up an argument the plastics industry has made from the get-go, namely that reusable carrier bags, especially unwashed, are a breeding ground for bacteria. While some health experts estimate that the Covid-19 virus can remain on plastics and other materials for several days – see Plasteurope.com of
20.03.2020
– the argument that plastics can simply be binned seems to have the edge for now. The Plastics Industry Association and
American Recyclable Plastic Bag Alliance
(ARPBA, Washington, D.C.;
www.bagalliance.org
) can be pleased about the turnaround in opinion – see Plasteurope.com of
24.02.2020
.
Since mid-March, a number of changes in existing or future plastic bans have been announced. The Massachusetts Food Administration asked the state's governor to rescind bans on plastic carrier bags in several towns out of concern that handling the reusable bags poses a threat to grocery store workers. Using the same argument, the state of New Hampshire temporarily banned reusable bags under an emergency order. A statewide ban on plastic carrier bags scheduled to go into effect in Maine on "Earth Day", 22 April 2020 was pushed forward to 15 January 2021.
In hard-hit New York, where a statewide ban on plastic carrier bags went into effect on 1 March, enforcement was delayed twice after the virus tightened its grip. A new date has been set for 15 May 2020, but this is now considered completely unrealistic. The
Department of Environmental Conservation
(DEC), however, has rejected calls by Republicans in the state senate to ditch the plans altogether. Despite the enforcement delay, the state still encourages shoppers to use reusable bags, using "common sense precautions" to keep them clean. "New Yorkers are pleased with the bag ban and have no interest in a return to polluting ways," DEC commisioner
Basil Seggos
is quoted widely as saying.
27.03.2020 Plasteurope.com [244791-0]
Published on 27.03.2020
German version of this article...