SINGAPORE
Outline of steps in zero waste vision / Implementation of EPR framework / Deposit refund scheme to start by 2022
Singapore is introducing several measures to achieve its vision of zero waste.
Amy Khor
, Singapore's senior minister of state for the environment and water resources (MEWR), set out the country's proposals in a speech on 4 March 2020. This year, the government will introduce regulations to mandate the reporting of packaging data and development of plans by packaging producers, retailers and supermarkets to reduce, reuse and recycle. Obligated companies will start collecting the data from 1 July 2020 for submission to the
National Environment Agency
(NEA, Singapore;
www.nea.gov.sg
) in early 2021.
Khor said the move will encourage companies to optimise their packaging use, while also minimising waste and cutting costs. Packaging accounts for a third of Singapore's total domestic waste. She added that as this is the first time the government is implementing a reporting requirement, NEA is partnering the
Singapore Manufacturing Federation
(
www.smfederation.org.sg
) to support companies in fulfilling their new obligations.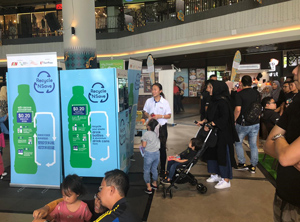 Singapore's "Recycle N Save" initiative is trialling 50 reverse vending machines across the country (Photo: Recycle N Save)
In addition, the government is bringing forward the extended producer responsibility (EPR) framework for packaging waste by implementing it in stages. In a first phase, it will implement a deposit refund scheme (DRS) for beverage containers by 2022, building on its reporting framework and trials of reverse vending machines (RVMs) launched in 2019 through its "Recycle N Save" initiative. "We are studying international best practices and will conduct industry consultations and a request for information for the DRS later this year," Khor said, adding that the DRS will aggregate post-consumer plastics waste, such as PET drinks bottles, which will supply a steady feedstock to drive demand for local recycling capabilities.
A total of 11 RVMs have been rolled out, and the government will deploy another 39 by mid-2020. "I am encouraged by the positive response with over 2m containers collected since the launch of the RVMs last October. We will continue to refine the pilot," stated Khor.
MEWR and NEA are also supporting the #RecycleRight citizens' workgroup (
www.towardszerowaste.sg/citizens_workgroup
) to fine tune and trial a prototype blue recycling bin. The redesigned bin includes a transparent panel on the body and eye-level labels with #RecycleRight information and tailored deposit holes.
NEA has also successfully trialled the use of bigger recycling bins, and these will be progressively deployed across Singapore by 2022. The agency is also considering a pilot "recycling bin contamination rate" competition involving several residents' networks.
With regard to cutting the use of disposable or single-use plastics, Khor said Singapore should take "a pragmatic approach," noting for example that biodegradable bags provide few benefits as the country incinerates all household waste. NEA intends to convene a citizens' workgroup later this year to address the excessive consumption of all disposables, including EPS foam and single-use plastic bags.
Khor noted that the
FairPrice
supermarket chain had trialled a plastic bag charge in 2019 with promising results, and it plans to roll this out to 25 outlets for one year. The
Prime
supermarket chain has also implemented a plastic bag charge in four of its stores. Singapore is looking too at chemical recycling. The government is working with the
Economic Development Board
(EDB, Singapore;
www.edb.gov.sg
) and industry partners to look at installing a pilot plant "to help anchor the chemical recycling value chain in Singapore within the next few years."
Electronic waste, or e-waste, is another area of focus, and NEA has started registering producers under the e-waste EPR framework, which will take effect in 2021. The agency is due to launch a tender this month to appoint the producer responsibility scheme operator. It is currently pre-qualifying organisations with the aim of appointing the operator by the second half of this year.
Similar to packaging waste, the e-waste EPR framework will finance and drive local e-waste recycling plants. A facility to recycle lithium-ion batteries will be finished in the coming months, and recyclers
EWR2
and
SMC Industrial
(Singapore;
www.smcind.com
) are also planning to build plants dedicated to large household appliances, IT equipment and batteries. These two facilities will be completed by mid-2020 and mid-2022, respectively. Together, the three plants will be able to process more than 50,000 t/y of e-waste when fully operational. They are also expected to add another 430 jobs.
Last year was Singapore's "Year Towards Zero Waste", and Khor said the government had organised nearly 2,000 zero waste programmes and activities. Having also charted its inaugural zero waste masterplan in 2019, the country has a target to reduce by 30% the amount of waste it sends to Semakau Landfill by 2030. Semakau is an offshore site and Singapore's sole landfill facility.
According to NEA figures, Singaporeans disposed of 908,000 t of plastics waste in 2018. Just 40,700 t of this was recycled, a rate of 4%.
20.03.2020 Plasteurope.com [244693-0]
Published on 20.03.2020