SIBUR
Exports to China, Turkey up despite lower margins / European export infrastructure to remain in place / Subsidiary Kazanorgsintez prepares lawsuit against Siemens
Sibur
(Moscow;
www.sibur.ru
) plans to export 1 m t of polyolefins to China and Turkey in 2023, 67% more than in the previous year, as board member
Pavel Lyachovich
disclosed during an industry conference in Moscow.
Additional quantities are redirected from the European market, which has been
closed for the company
since mid-2022. Sibur also expects a growth in polymer production this year versus 2022, Lyachovich added without providing concrete figures.
In fact, the company has not unveiled any details on its production performance in 2022. Board member
Sergey Komyishan
told the state press that despite a lack of imported technologies and some critical components, Sibur managed to avoid a slump in output and keep the production level "as close as possible to the targeted figures."
Sibur CEO
Oleg Makarov
noted that the company needs to
divert exports to Asia
and the Eastern Mediterranean, as European clients have almost completely abandoned Russian petrochemical products.
Related
:
A year of war takes toll on Russian plastics, chemical industries
The reorientation to new markets came with logistical difficulties that nearly halved margins on export sales last year. Makarov added that Sibur is maintaining its export infrastructure in the European direction, hoping to one day return to the market with, for example, liquefied hydrocarbon gases.
Kazanorgsintez demands payback
In other news, Sibur subsidiary
Kazanorgsintez
is in the process of preparing a lawsuit against
Siemens Energy
(Munich;
www.siemens-energy.com
), demanding it return part of the RUB 9.1 bn (EUR 110 m) advance paid under the contract for the construction of a 250-megawatt combined cycle power plant in Kazan, Russia. As a part of the lawsuit, Kazanorgsintez demands that Siemens Energy's shares in local companies, bank accounts, and other property be frozen.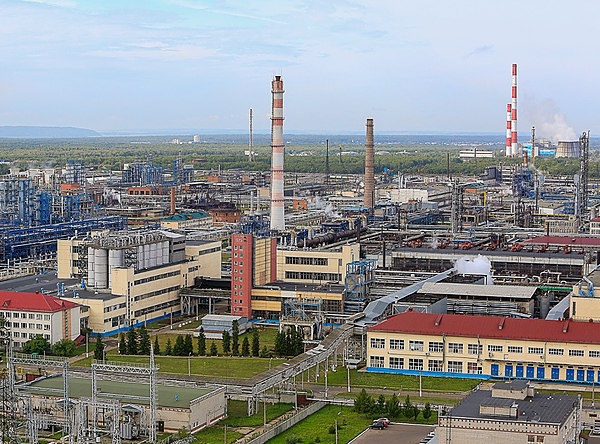 Kazanorgsintez site in Kazan, where Siemens Energy was meant to construct a combined cycle power plant (Photo: Kazanorgsintez)
Under the agreement, Siemens Energy signed up to build the combined cycle power plant by March 2023. In July 2022, however, the German company backed out of the project, citing EU sanctions. As a result, all work on the facility has reportedly been halted.
In early March this year, Sibur reported it had finalised the terms of the
takeover of a 50% stake
in Russian PVC producer
RusVinyl
from its joint venture partner
Solvay
for EUR 430 mn. The deal opens up additional opportunities for Sibur in terms of developing and improving the efficiency of interconnected industries, a spokesperson for Sibur told Russian newspaper Kommersant.
30.03.2023 Plasteurope.com [252499-0]
Published on 30.03.2023