SAUDI ARABIA
Certain packaging plastics required to be oxo-degradable / Customs checks since December 2017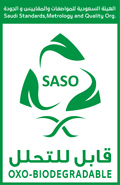 The Saudi certification label for oxo-degradable plastics (Source: SASO)
While Europe is moving away from oxo-degradable plastics packaging, Saudi Arabia is adopting the opposite approach. Since December 2017, certain PP and PE can only be imported into the kingdom if they incorporate permitted oxo-degradable masterbatches. According to the rules introduced by the
Saudi Standards, Metrology and Quality Organization
(SASO, Riyadh;
www.saso.gov.sa
), a total of 16 product groups are required to display the label – from shopping bags and flower films through to packaging films with a thickness of up to 250 microns.
The regulation not only covers imports, but also prohibits the domestic production and marketing of packaging of this type. Also affected by the required certification are plastics used for transport packaging of the actual materials that are being imported. This includes films used to pack household appliances, for example.
SASO issued the regulation in October 2016 and, since 13 December 2017, Saudi customs authorities have been conducting binding checks. In a second step, as of 1 August 2018, the checks will be extended to additional products, such as bubble envelopes and disposable tableware. In the third and final phase, the regulation will also cover bags for lining cardboard boxes or food packaging. SASO is publishing on its website a complete list of the products subject to the regulation, and also information regarding registration.
With these measures, Saudi Arabia is following the United Arab Emirates. The
Emirates Authority for Standardization and Metrology
(ESMA, Dubai;
www.esma.gov.ae
) has been overseeing the certification of plastic bags and other disposable articles as oxo-degradable.
Other parts of the world are looking sceptically at this attempt to reduce waste. Spain prohibited use of the disputed plastics and their additives at the start of 2018, while France already banned them in 2015. In November 2017, 150 international organisations, companies, scientists and EU parliamentarians associated with the
Ellen MacArthur Foundation
(EMF, Cowes / UK;
www.ellenmacarthurfoundation.org
) warned against the use of these plastics that are frequently designated biodegradable and spoke out in favour of them being banned – see Plasteurope.com of
13.11.2017
.
"The contribution of these plastics to microplastic pollution poses an environmental risk, particularly in the ocean. Furthermore, oxo-degradable plastics are not suited for effective long-term reuse, recycling at scale or composting," warns the "New Plastic Economy" initiative. The signatories include not only big industry names like
BASF
and
Borealis
, but also
Marks & Spencer
,
PepsiCo
,
Unilever
,
Veolia
,
BPF
, the
Gulf Petrochemicals and Chemicals Association
,
Greenpeace
and the
WWF
.
Critics maintain that the latest research shows oxo-degradable materials are only broken down into smaller fragments. While they become "invisible" under the influence of light (degradation is accelerated by UV radiation) and oxygen, the process simply leads to the formation of microplastic particles that constitute a hazard for the environment. Complete biological degradation has not yet been proven.
In turn, the
Oxo-biodegradable Plastics Association
(OPA, London / UK;
www.biodeg.org
) published a response to the "counter-productive and confusing" EMF report – see Plasteurope.com of
22.11.2017
. The association sees the EMF's criticism as a commercially-motivated attack on oxo-degradable plastics.
There are, however, those who are delighted at this Saudi requirement.
Symphony Environmental Technologies
(Borehamwood / UK;
www.symphonyenvironmental.com
) has been awarded the lucrative stamp by the SASO for its "d2w" additive. The company was selected as an approved oxo-degradable additive supplier to Saudi Arabia in 2017 – see Plasteurope.com of
26.04.2017
.
Wells Plastics
(Stone;
www.wellsplastics.com
), similarly based in the UK, has received a licence for its "Reverte" additive and
EnerPlastics
(Dubai;
www.enerplastics.com
) has also had its "EP-OBD" additive licensed. Plastics enriched with one of these additives will be permitted to pass through Saudi customs.
e-Service
:
SASO's "Technical regulation for degradable plastic products" (October 2016) as a
PDF
file
11.01.2018 Plasteurope.com [238729-0]
Published on 11.01.2018
German version of this article...